MSAD 35 Emergency Snow Day Procedures For pdf: MSAD 35 Emergency Snow Day Procedures
https://5il.co/1l1v7
November 18, 2022 Dear Members of the Marshwood Community, As the northern part of Maine experienced its first significant winter weather event this week, I wanted to send out a short note about MSAD 35's inclement weather procedures. Over the past few years, other school districts across the state and country have moved away from traditional snow days and adopted remote learning days. To that end, MSAD 35 will continue to have traditional snow days. Allowing students, the opportunity to enjoy the thrill of a snow day and go out and enjoy the snow is something that I believe they need and all look forward to. I wanted to share the process that MSAD 35 will be using when assessing driving conditions during winter weather. A number of variables have to be considered as weather conditions in South Eliot, which may vary greatly compared to Rodier Road in South Berwick. As a result, MSAD 35 has always partnered with the Town of Eliot and the Town of South Berwick Emergency Management Directors, as well as each community's Chief of Police, Fire Chief, and Public Works Director to create clear emergency protocols in the event of a severe weather event or an unanticipated emergency. These protocols provide clear collaborative communication between the towns, the State of Maine, and the school district. In essence, I will gather as much information as possible to make an informed decision regarding our school's opening, closing, or having a delayed start time and then communicate that information by 5:45 am with members of our school district. Over the past 9 years, some families have questioned why the phone calls to cancel school are so early in the morning; the reality is that our school buses begin their morning routine as early as 5:50 am with the first students being picked up at approximately 6:20 am. Some children are required to walk to their bus stops, up to ½ mile, and will be leaving their homes by 6:00 am. Below you will see listed the various outlets where MSAD 35 will post information in the event of a change in our school's daily status. ● Posting on the district's website front page:
www.rsu35.org
● Posting on the district's Facebook page
https://www.facebook.com/pages/Marshwood-Schools/258524500918045
● Notification via TV channels WCSH Channel 6, WMTW Channel 8 & WGME Channel 13 ● Phone message and email via Thrillshare Earlier in October, I used the Thrillshare calling feature to share important information with the community. That phone call created some confusion as the calling number appeared to originate from Little Rock, Arkansas. I am pleased to share with you that we have worked with Thrillshare and they have assured the District that those emergency phone calls will originate from our local number. It is also important to note that weather conditions can vary across our district and there may be times that you as a parent, may decide to keep your child home when school is open because you feel the conditions are unsafe. I want to assure you that the district will support you in your decision, as we believe that if you as a parent do not feel it is safe to have your child or children attend school, you should keep your children home. If you decide to keep your student home due to unsafe weather conditions, the absence will be considered "excused". Any work that may be missed may be made up in a reasonable period of time. I also want to provide some clarity for three different scenarios that have caused some confusion in the past that may occur again due to the timing of the inclement weather. - Two Hour Delays – A two-hour delay will result in all schools moving their start times forward 2 hours. Bus pickup times will be 2 hours later than normal. There will be no morning Pre-Kindergarten with a Two-Hour Delay. - Two Hour Delay on a Delayed Start Thursday – A two-hour delay on an Early Release/Delayed Start Thursday will result in all schools starting two hours later than a typical day. For example, Marshwood Middle School typically starts at 7:30 am, but if a 2-hour delay were needed, school would start at 9:30. The Elementary School would start two hours later and still release at the Thursday early release time. - Sanford Regional Technical Center / other out-of-district schools are open but MSAD 35 is closed – When this occurs, there will be no school for all MSAD 35 students. Safety is the priority. Providing a safe environment for our students and staff is our priority. Thank you for your continued support! Sincerely, John S. Caverly, M.Ed. Superintendent of Schools

No School November 23-25 Thanksgiving Break

November 15, 2022 Members of the Marshwood Community, I am writing this afternoon to provide an update on the active shooter threat that occurred at Sanford High School this morning. The threats at Sanford High School and other schools across the State of Maine have been deemed a hoax. As a member district of the Sanford Regional Technical Center, a number of Marshwood High School students attend the SRTC and were present in the building during this extremely traumatic event. This afternoon, Maine Informational Analysis Center provided an update regarding this morning's threat. As many as 7 active shooter threats were made across the State of Maine. According to the timeline, the first threat was called into Sanford High School at approximately 8:20 am this morning. Calls directed at other schools occurred after that initial call. Students and staff at Sanford High School experienced a traumatic event that included a building lockdown, significant medical and law enforcement presence, and the evacuation of the building to an established reunification site. Although it is a relief to hear that the situation was a hoax, the trauma and stress placed on students, staff, families, law enforcement, and administrators are real and very concerning. I cannot express the emotions and fear that these people were placed under as a result of this hoax. These threats must be taken seriously and investigated to the fullest extent in order to ensure the safety of all. In such instances, law enforcement must thoroughly and systematically assess the validity of the threat. Knowing this does not change the anguish that families and friends faced as we waited for accurate information, or nullify the emotions of those who had loved ones at Sanford High School or the SRTC in the midst of this hoax. We will provide any information that we can, once it has been released to us by law enforcement. As a member of the community, a parent, and the leader of our school department, I recognize there is no greater fear than a threat to the safety of the members of our community. As our students return to school, we will offer support and help them process the events that occurred this morning. In addition to communicating with students, staff, and the community, we are working with our school counselors to provide support to all students. Please feel free to reach out to your children's school counselors as they can help provide resources to process this morning's events. As frightening and concerning as this morning was, we have faith in the work that we have been doing as a district to ensure the safety of everyone. This includes extensive work on our critical incident and violent critical incident training. We will continue to work hand in hand with local law enforcement and first responders to ensure a safe environment for our community. We will stay vigilant in maintaining safety at each of our schools to ensure our students the educational experience that they deserve. Respectfully, John Caverly

Good Neighbors and Friendship in the Heart of South Berwick Central School and the Avesta Young Street Apartments are located in the heart of South Berwick, Maine. Bill and Layla love their home in the Young Street Apartments. The apartments designed by the local Lassel Architects were ready for occupancy in 2017. The 28-unit apartment complex is perfectly located between the South Berwick Library and Central Elementary School and its Outdoor Classroom. Bill left his career in the marine industry in Florida to settle in South Berwick. Many locals recognize him because he spent his early years directing traffic in the town square. Bill says he loved his apartment right away, especially because residents are allowed to have pets. It has big windows that allow light to stream in and those big windows also allow him to hear the joyous sounds of children, their families, and the Central School staff who are entering and leaving the school's main entrance. For the full story and pictures follow this link: Good Neighbors in the Heart of South Berwick
https://5il.co/1kjs2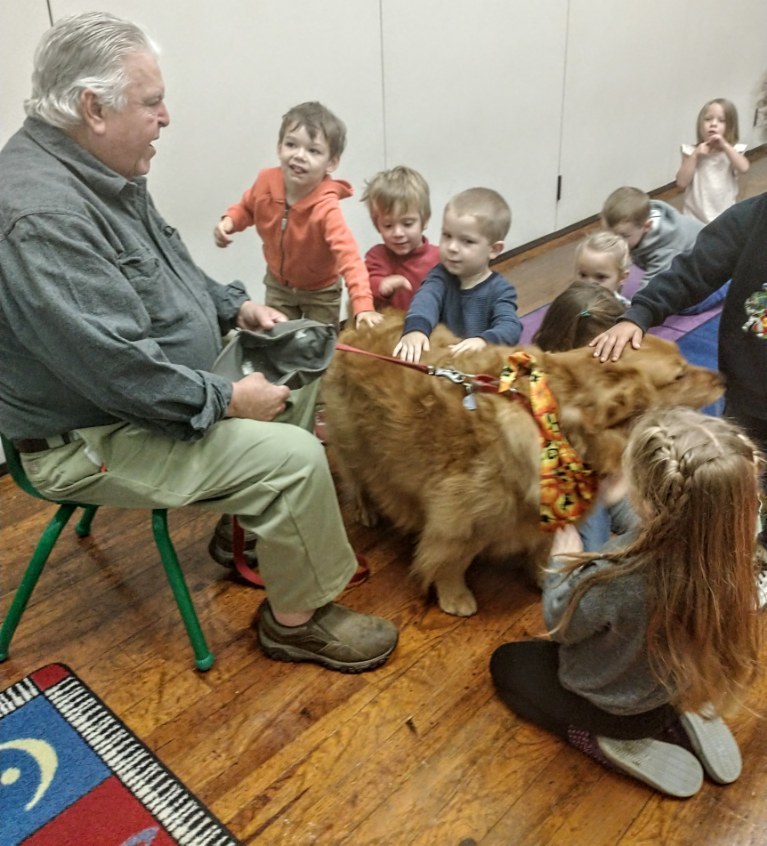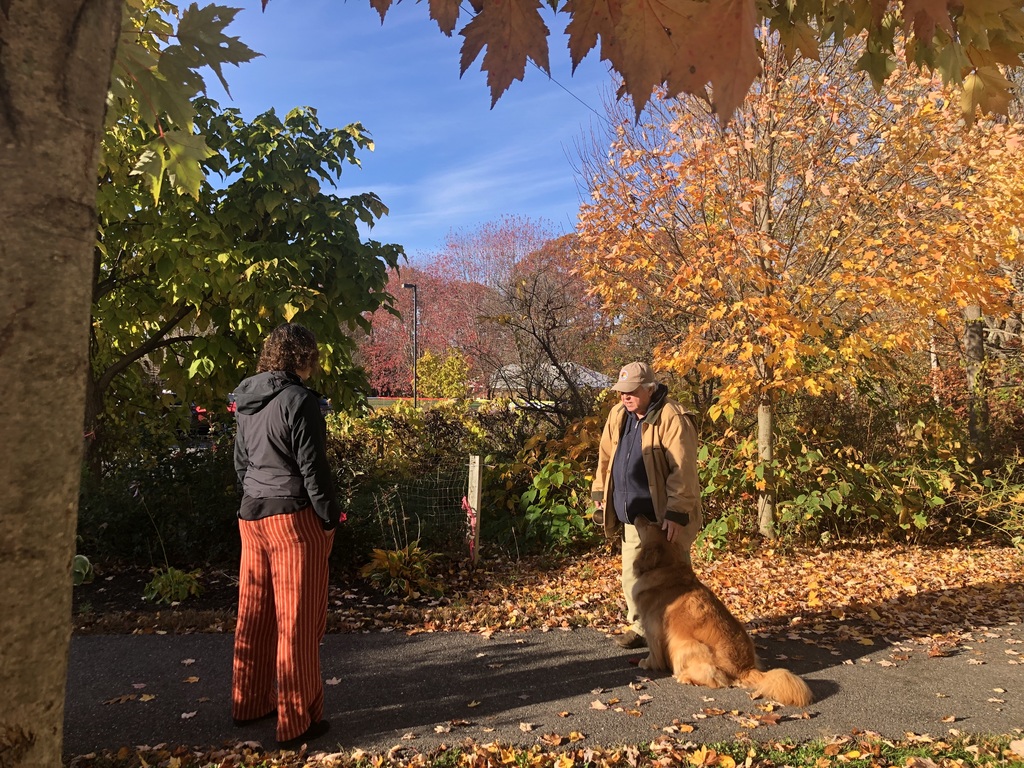 Substitute Bus Monitor for the month of November. One shift or two shifts - take a week or take certain days - flexible. 6 am to 8:30 am 1:30 pm to 4:30 pm $15.75 per hour JOB DESCRIPTION Assists young or special needs students during their transportation to and/or from school in following school district bus conduct rules. As a "special needs" monitor, one must be capable of performing all tasks per the student's IEP. Assists bus driver in maintaining good student conduct. Reports discipline problems using district-approved procedures. Performs other such duties as deemed necessary by the Director of Transportation. If interested, please reach out to Heather Webster, Transportation Director at
heather.webster@rsu35.org
or phone 207-384-4681.

The App to Use for All Marshwood Information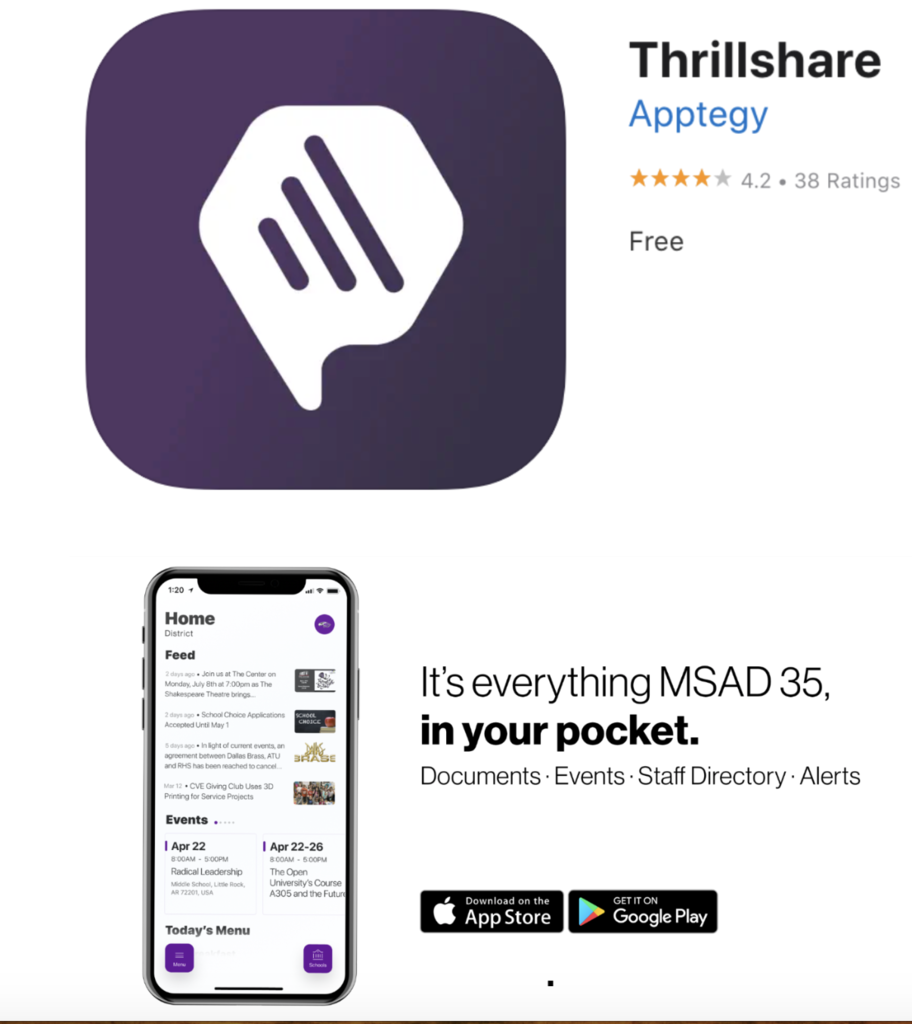 All Marshwood Students are Eligible for Free Meals MSAD #35 announces its policy to serve nutritious meals every school day under the National School Lunch Program and School Breakfast Program. Effective August 31, 2022, through June 30, 2023, all students registered and enrolled in Marshwood Schools are eligible for free meals regardless of household income. Lunch and breakfast are provided for students in K-12 and Pre-K students will be provided with either breakfast or lunch depending on the session they attend (AM/PM). Students that bring cold lunch and order milk, will be charged $.40.

2022-2023 BUS RUNS Are Now Available at Infofinder i Parent Portal link located on the district website under Transportation Department on their homepage in the right column. Please check back prior to the first day of school (August 31st) for any updates. Transportation continues to receive new information daily which may impact your child's transportation information. Copy the link below into a browser: Link: infofinderi.com/ifi/?cid=R5AW1KRQ4F Call the Transportation office with any questions at 207-384-4681

Work Permits for Students 1. Marshwood High School processes Work Permits (Mon-Th 7:30 am to 3:00 pm) Or 2. Fill out an application at the Superintendent's Office Provide a driver's license, passport, or birth certificate to verify age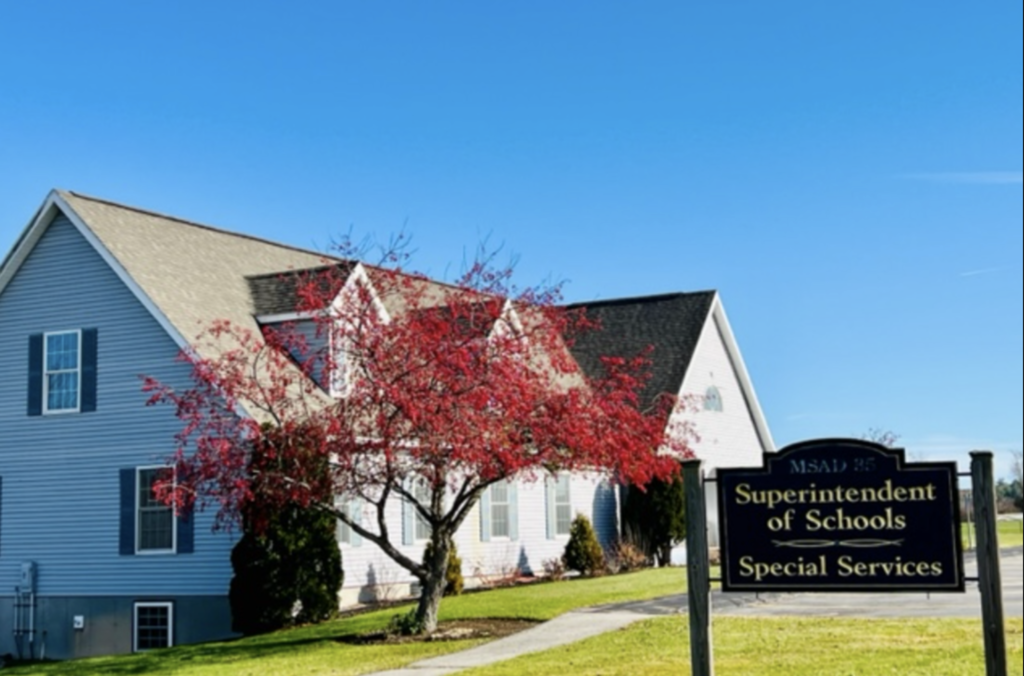 2022-2023 Marshwood School Calendar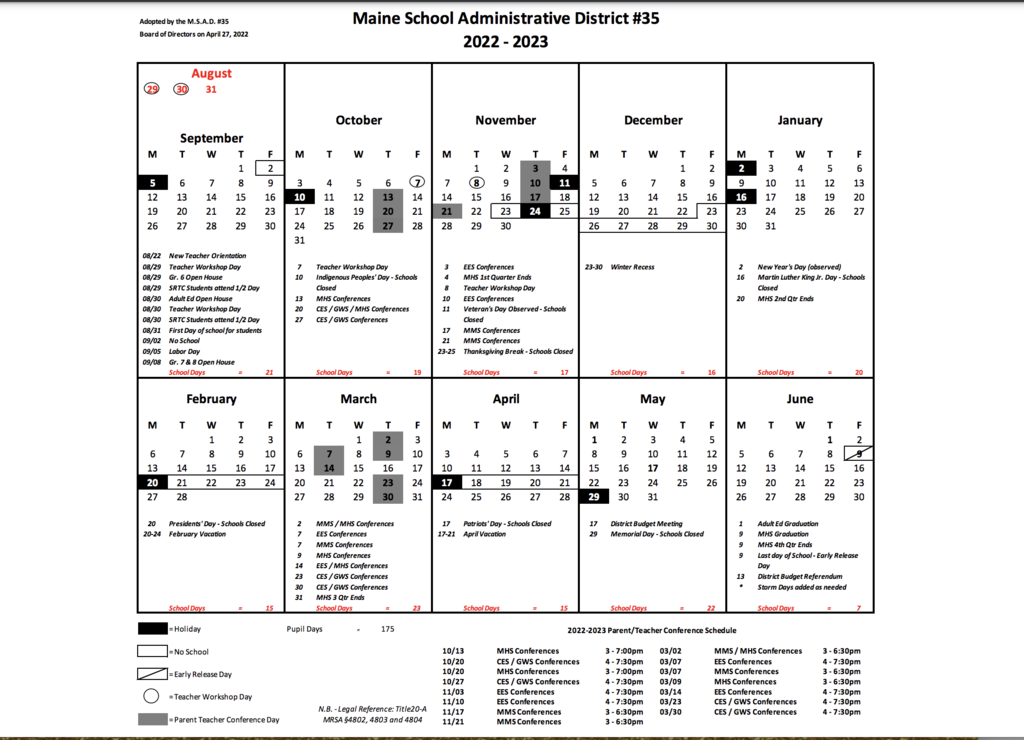 Wednesday, 27 April 2022 – 7:00 PM Maine School Administrative District No. 35 Board of Directors – Regular Meeting Agenda Marshwood High School – Learning Center
https://www.rsu35.org/page/board-meeting-stream-information
Reminder: As of March 9, 2022 all MSAD 35 building recommended/optional masking indoors. 5:00 – 6:00 PM Finance and Facilities Mtg 6:00 - 6:45 PM Budget Workshop 7:00 PM Call to Order ELIOT, Maine – Link to agenda for April 27, 2022
https://5il.co/19b24

Maine School Administrative District No. 35 Board of Directors – Regular Meeting Agenda Board Agenda for 06 April 2022
https://5il.co/187pb
Marshwood High School – Learning Center Wednesday, 06 April 2022 – 7:00 PM
https://www.rsu35.org/page/board-meeting-stream-information
Reminder: As of March 9, 2022 all MSAD 35 building recommended/optional masking indoors. 5:00 PM Budget Workshop (CES, EES, MGWS, Transportation, Special Education, Central Office, Federal Grants, Adult Education) 7:00 PM Call to Order

Maine School Administrative District No. 35 Board of Directors – Regular Meeting Agenda Marshwood High School – Auditorium Wednesday, March 16, 2022 – 7:00 PM
https://www.rsu35.org/page/board-meeting-stream-information
Reminder: As of March 9, 2022 all MSAD 35 building recommended/optional masking indoors. 5:00 PM Board Workshop - (Maintenance/Technology, MMS, MHS, Athletics) 6:30 PM Finance and Facilities Meeting 7:00 PM Call to Order
https://5il.co/1743w

Marshwood Food Service Substitute See School Spring.com Job Details Job ID: 3763671 Application Deadline: Posted until Filled Posted : January 24, 2022 Starting Date: Immediately Job Description Substitute Food Service Worker - Cafeteria Position Type: Part-time Positions Available: 1 Salary: $ 14.90 to $ 14.90 Per Hour Job Category : Support Staff > Food Service Location Description Maine School Administrative District #35 (MSAD #35) serves the two rural communities of Eliot and South Berwick, ME. Students from nearby Rollinsford NH also join us for grades 7-12. The district consists of five school buildings (Grades PK-3, 4-5, 6-8, and 9-12) with a student enrollment of approximately 2,200. Located on the southern Maine border, our towns are approximately 50 miles North of Boston and adjacent to Portsmouth, New Hampshire. The communities are able to maintain their rural character while having access to facilities and technology normally only available in larger urban areas. Learn more about us... Equal Opportunity Employer MSAD #35 (Eliot and South Berwick) is committed to maintaining a work and learning environment free from discrimination on the basis of race, color, religion, national origin, pregnancy, gender identity, sexual orientation, marital/civil union status, ancestry, place of birth, age, citizenship status, veteran status, political affiliation, genetic information or disability, as defined and required by state and federal laws. Additionally, we prohibit retaliation against individuals who oppose such discrimination and harassment or who participate in an equal opportunity investigation. Job Requirements Maine Department of Education Criminal History Record Check certificate eligibility. At least 1 year of relevant experience preferred High School/Trade School degree preferred Citizenship, residency or work visa required Application Questions This employer has requested that ALL applicants answer the following questions. It IS highly recommended that you type ANY essays IN a word processing program, save them, AND THEN paste them ON the proceeding job application page. 1. Do you give the district permission to contact references? Yes/No 2. I understand that this application contains no misrepresentations or falsehoods. Yes/No Contact Information Karan Pfingst , Food Service Director 260 Dow Highway South Berwick, Maine 03908 Phone: 207-384-4500 Fax: 207-384-4508 Email: click here


MSAD 35 Transportation announces the ability to send alerts when bus runs are running behind 10 minutes or more through LiveFeed and FaceBook. Make sure you are signed up on the ThrillShare App.