Playoff rankings, brackets and opponents for Field Hockey, B & G soccer and volleyball should be made public by 1pm on Wed Oct 20th
Boys soccer ends their regular season with a 4-1 win over Portland! Finish season 11-2-1. Goals today by Trevor Wozny (2) James Melino and Abram Cartmill!! Nice job boys
Jv girls soccer sneaks out a 1-0 win over Portland
Girls soccer 0-0 time w Portland
Marshwood FH defeats South Portland 5-0 in season finale. Scorers: Ella Holland Emily Johnson Reece Forrester 2 Becca Renaud . Erika Parker w 2 assists

Marshwood lost a hard fought game to Biddeford, 2-1. Hawks goal by Eva Hersey, assisted by Becca Renaud. Great game by all; standout play by Maddie Labreck and Erika Parker.

Marshwood boys soccer with a 7-0 win over Noble. Goal scorers were: Wyatt Yager Rowan Carter (2) Andrew Daskoski Milo Closson James Melino Max Rafferty
Hawks defeat Noble in girls soccer 2-1. Lilli Hammond scored with an assist from Jadyn Eastman. Aoife Coomey scored unassisted. Sam Arnold had 8 saves. Hard fought win with another playoff contender. The defense played well tonight.
Marshwood xc dominates at home The Marshwood girls and boys cross country teams ran to easy victories at home to close out the regular season. The Hawks had the first three girls across the line, with Sarah McClellan running to victory on the tough 5k course in 20:32. Teammates Addie Fuller (20:46) and Emma Tessier (22:45) were second and third overall, with Brynn Butler (9th, 24:41) and Laura Horvath (13th, 26:45) rounding out the Hawks scorers. Marshwood's 28 points topped Noble (44), Sanford 52) and Massabesic (N.S.). In the boys race, the Hawks showed the strength of their pack, placing all five scorers in the top 10 overall. Braden Butler (3rd, 18:17) led Marshwood, with Sam DeGrappo (5th, 19:21), Finn Theos (6th, 19:28), Gehrig Hatch (7th, 19:34) and Hayden Sawyer (8th, 19:35) as the other Hawk's scorers. The boys team finished the regular season undefeated with a 10-0 mark, while the girls team was 8-2. With strong finishes at recent invitationals, the Hawks seem ready for a strong postseason. Their next race is at the Southern Maine Regional Championship in Cumberland, Maine, on Saturday, 10/23
Marshwood boys soccer with a huge 2-1 win over Scarborough. Goals from Declan Fitzgerald and Connor Walker.
Great day for a xc meet at Marshwood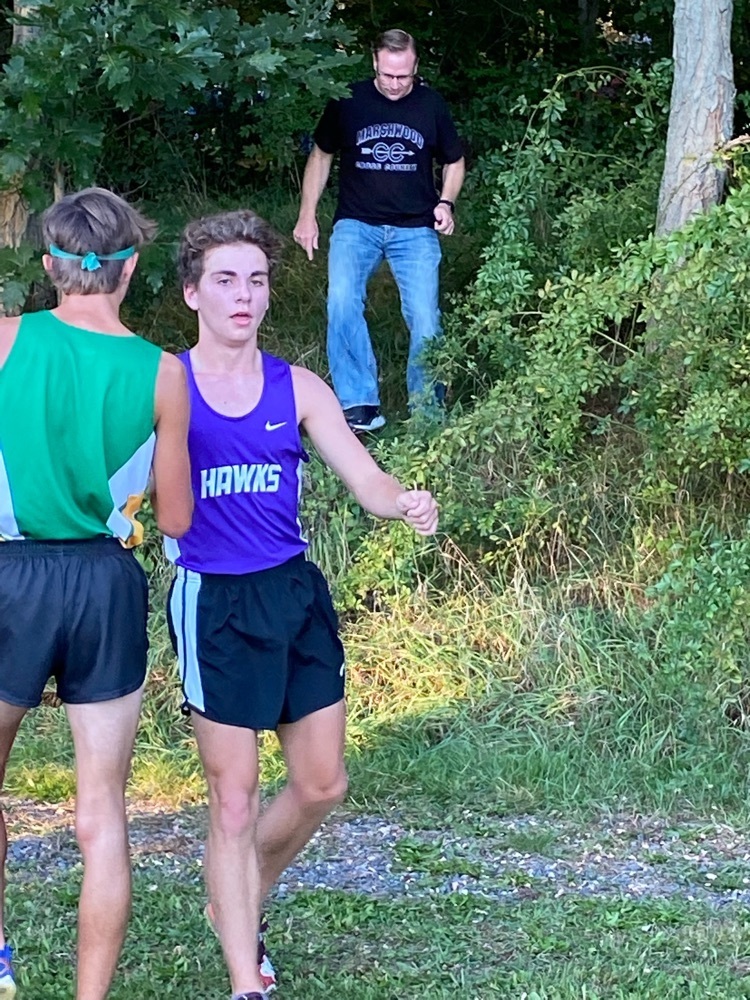 Marshwood Volleyball wins in an epic 5 set thriller at Bonny Eagle. The fifth set went to the wire with our girls closing it out to win by two points. Nice job VB team
Great win for our varsity field hockey program over Portland today! 4-1 win for the Hawks!
Marshwood volleyball defeats a very tough Deering team 3-1 in Class A action at Marshwood
Marshwood Cross Country Impresses at the Festival of Champions The Marshwood cross country team competed in the 20th running of the Maine Festival of Champions. Held annually in Belfast, Maine, it is the largest high school cross country race in the state, attracting 72 Maine schools and 4 out of state schools this year. The Marshwood girls were led by Sarah McClellan (9th, 19:17) and Addie Fuller (13th, 19:34) who both were recognized as medalists for their top 20 finishes. Catie McClellan (51st, 21:04) and Emma Tessier (53rd, 21:07) also ran strong races for the Hawks, with Maggie Chamberlain (79th, 21:36) was the final scorer. There were 523 runners in the girls races and Marshwood finished 5th overall out of 49 scoring teams. Braden Butler paced the boys team, with a 16:56 over 5k to finish in 17th place as a medalist. Sam DeGrappo (50th, 17:54), Finn Theos (60th, 18:02) also ran excellent races for the Hawks, with Gehrig Hatch (150th, 18:57) and Hayden Sawyer (183rd, 19:11) rounding out Marshwood's scorers. There were 667 runners in the boys races and Mashwood finished 11th overall out of 55 scoring teams
Congrats to former MHS grads Trevor Chase and Justin Bryant. Hawks fly high away from the Nest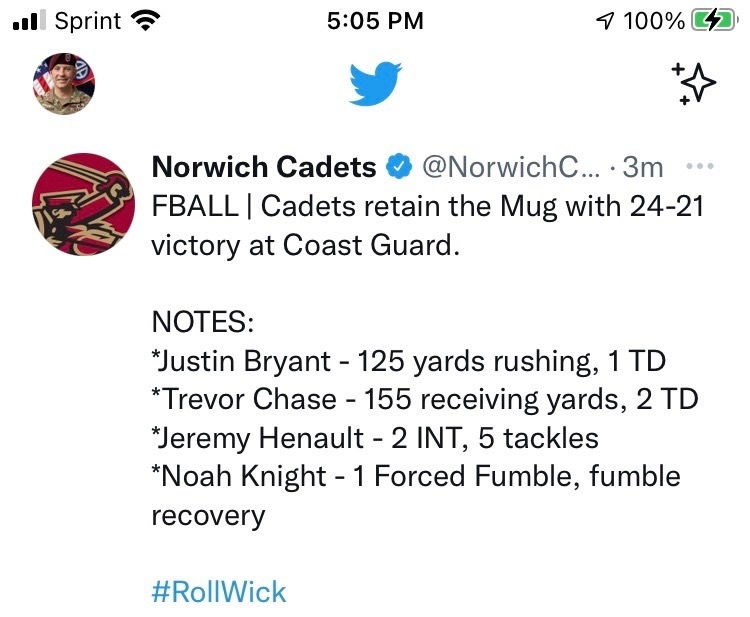 Marshwood volleyball wins in 3 straight sets vs TA 3-0
2-1 final over Westbrook in MHS field hockey action.Erica Parker Emily Johnson with the goals. Goalie Lili Dupree with big penalty stroke save.
Marshwood boys soccer with 3-1 win over Thornton Academy. 2 goals from Trevor Wozny
Varsity Golf wins 11 - 2 over Massabesic, & finishes regular season at 8-2. Marshwood's Zach Glidden had the low score of the day, shooting 39 to take Low Medalist. Also scoring for the Hawks: Sydney Pergerson - 42, Liam Adams - 49, Aidan Pride - 48, and Ronan Garrett - 48.