A message from MSAD 35 MAINE November 7, 2021 Dear Families, We will be mailing school specific sign-up information on Wednesday, November 10 for 5-11 year old COVID Vaccines at our school clinics. In the meantime though, we'd like to inform you of a webinar on Tuesday, November 9. It is being put on by Maine Community Action Partnership and is titled Pediatricians Share: What Maine Parents Need to Know About the COVID-19 Vaccine For Children:
https://mecap.org/events
Please use the link for information about the event including a sign up for it. All community members are welcome to attend. Thank you, The Marshwood District Nurses

What an unbelievable response to this year's PTO Pie Fundraiser! Great Works families ordered 1078 pies, which is more than double from years past. With that being said, delivery of all those pies from Patriots Fundraising is also earlier than in years past: Wednesday, November 10th from 3:15 to 6:00 p.m. If it's good weather, we will set up on the walkway outside of the cafeteria; if bad weather, we will set up in the cafeteria. MGWS does not have the freezer space to store very many pies so please mark your calendars and make every effort to be here. Thank you again to all for your support !!

November 2, 2021 Vaccine Update For 5-11 Year Olds: On October 29, the FDA authorized the Pfizer COVID-19 Vaccine for children ages 5-11. Nov 2, the Advisory Committee on Immunization Practices will meet to vote on recommendations for use of the vaccines. Following the Nov 2 meeting, the Director of the CDC will sign off on those recommendations and children in this age group will be able to start receiving vaccinations. The Pfizer vaccine for this age group is a lower dose than the one approved for people aged 12 and older and is also given as a two dose series given three weeks apart. A key part of the plan for vaccinating kids is getting vaccines into places that parents already take their children to for health care: pediatricians and family doctors, children's hospitals and neighborhood pharmacies. There will also be pop-up and mobile clinics and eventually school-based clinics. We have COVID-19 Vaccination clinics scheduled with Northern Light Health on the following days. Because of the lower dosage the only people who will be able to receive vaccines at these clinics are the 5-11 year olds. Nov 22 Eliot Elementary School 8:30 - 11:00 Marshwood Middle School 11:30 - 3:00 Nov 23 Central School 8:30 - 11:00 Great Works School 11:30 - 3:00 If your child receives the vaccine outside of school please provide documentation to their school nurse so that we can update their records. This is also a good time to check in with their PCP to see if there are any other immunizations that your child may need. We also encourage you to get a flu vaccine for all family members 6 months of age and older. COVID-19 Vaccination in Maine
https://www.maine.gov/covid19/vaccines
and COVID-19 Vaccination in NH
https://www.vaccines.nh.gov/
are good resources for those seeking vaccines for currently eligible children and adults. Consents and sign up information will be forwarded to you as soon as we receive them. In the meantime, please let us know if you have any questions regarding vaccinating your kids. Thanks! The Marshwood District Nurses

2nd Annual Halloween Parade is for students only. Please follow costume guidelines that were shared last week.

GWS Picture Retake Day - November 10th starting at 8:30 until they are finished - approximately 10:00 a.m.

A message from MSAD 35 MAINE October 26, 2021 Dear Families, COVID-19 Vaccinations for children aged 5-11 will be here soon! Here's a brief timeline and what we can expect over the next couple of weeks: ~Oct 26, 2021 The FDA's vaccine advisory committee will meet to discuss emergency use authorization of the COVID Vaccine for children. This will be followed by a decision by the FDA Commissioner. ~Nov 2 - 3 The CDC Vaccine Committee is scheduled to meet. Following that meeting the CDC Director will make an official recommendation on how the vaccines can be used. If authorized on October 26, jurisdictions can immediately begin ordering, and vaccines will start being delivered to sites. The vaccine undergoing the approval process is the two-dose Pfizer Vaccine and it is expected that there is enough supply to vaccinate the 28 million children who will soon become eligible. Here's a brief video on COVID-19 and kids: How mRNA vaccines work
https://www.youtube.com/watch?v=YOlrNlvEiMw
Unlike the phased rollout of vaccines for adults last year, the plan here is to make it widely available at pharmacies, pediatric and family practice offices, and community and school based clinics as soon as the approval process is complete. We are working with Northern Light Health and our York County liaison and will let you know as soon as possible about the dates and times for school based clinics. It is important that you know that as soon as this process is complete, vaccines will be available in our communities and you are encouraged to take advantage of whichever setting works best for your family to get your kids vaccinated. Vaccine availability for this age group is an enormous step in our fight against COVID. We understand there are questions and concerns and stand ready to provide you with the best information we can. This is also a good time to speak with your PCP regarding Flu vaccinations for your family as well as any other vaccines your child may be due for. We will keep you updated on the approval process and when we can expect to see vaccines for 5-11 year olds in our communities. Best, The Marshwood District Nurses

Pre-Screening Tool for School Attendance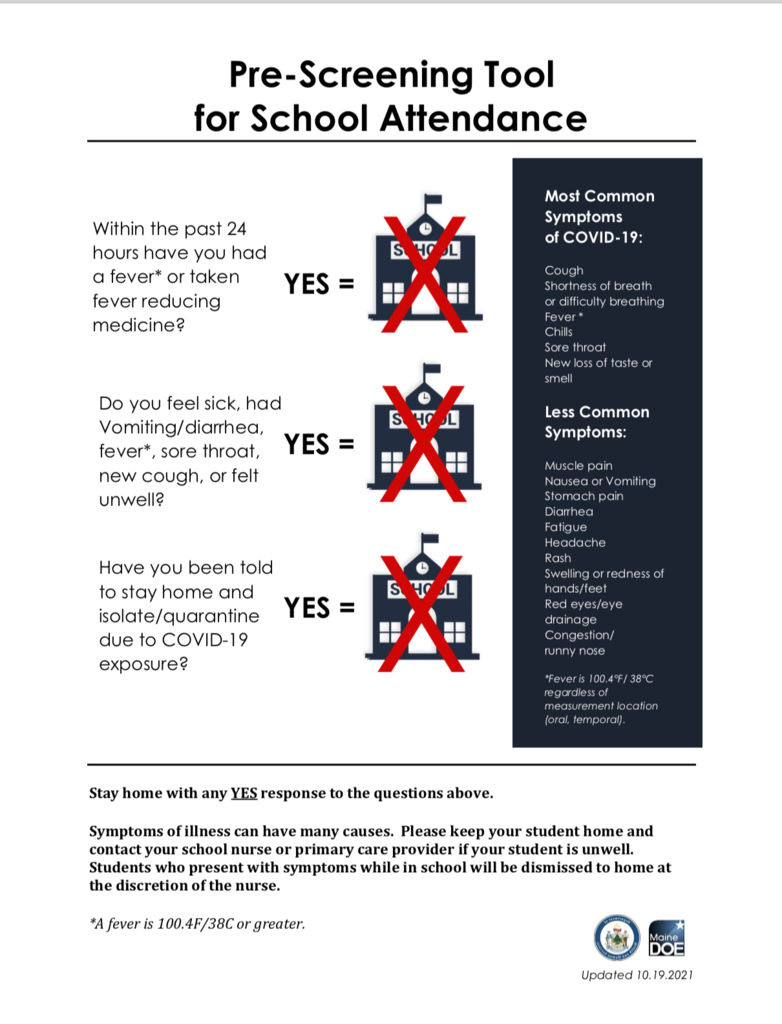 October 13, 2021Dear Families, Due to the level of COVID activity in our communities and the need to get relevant information to you quickly we have started to use the district's messaging system Thrillshare. You will receive a text, voice message, and email indicating that your child has been identified as a close contact and what the parameters of their quarantine are. It will also inform you that an email with additional information will be forthcoming shortly. This second email will be sent from an Infinite Campus email address and you can expect it within a few hours following the initial message. The follow-up email from the Infinite Campus system will detail the exposure date, recommended test dates, end of quarantine date, and general information on quarantine, isolation, testing, and community support. The entire nursing team follows the close contact guidance diligently and bases the information you receive on our most current records. The level of quarantine depends on where the exposure occurred (classroom, lunch, bus, sports), your child's vaccination status, and whether or not they participate in pooled testing. Last year's identification as being a close contact meant quarantine for 10 days for all. Today, vaccinations, pooled testing participation and the district's mitigation measures allow for most identified close contacts to remain in school. To help this process and ensure you and your student get the most accurate information, please provide a copy of your student's COVID-19 Vaccine card if you have not already. Please also provide any updated phone numbers or other contact information to your student's school. While we would prefer to contact you via phone directly, we have come to the realization that in the interest of time this system is the better option. That said, we understand that there will be questions and we encourage you to reach out to your school nurse for any that you may have. We also recognize that a robocall from an unknown number with this kind of information is unsettling and if we could do it differently we would. Thank you for your patience and understanding. Our primary objective is to keep our schools and everybody in them as safe as possible and this change in messaging will help in that. Best, The Marshwood District Nurses




Picture Day is scheduled for Tuesday, September 28th. Teachers handed out order forms in class and extra forms are available outside the office on the bookcase. Send a note to your child's teacher if you need a replacement.

The following Intramurals are completely full: Spanish Club, Art Club, and Hiking Club Those students who were accepted will be notified by Mr. Burnell. GWS will make every effort to offer the next round of intramurals to those students who we weren't able to take this time.




Early Release Thursday starts at Great Works tomorrow, September 9th. Start time is 8:05 and dismissal is approximately 1:35. At dismissal, all buses will be here at the school at the same time instead of staggered like the other days. Please, please review with your child where they are going and what they are doing after school tomorrow. If there is ANY change to your child's full day (8:15-3:15) P.M. travel arrangements send a note to your child's teacher. Due to COVID-19 restrictions we can not allow students to switch between buses without prior approval from the transportation department (207) 384 - 4681.