Central School List of Upcoming Events & Dates *June 10- Field Day *June 14- Grade 3 Pizza party and yearbook signing at 1:00 *June 15- Last Day, half-day dismissal at 11:45 *August 31- First day of school

Link to Complete Agenda for School Board Agenda for June 15, 2022 BOARD AGENDA FOR 15 JUNE 2022 0
https://5il.co/1c10m
Maine School Administrative District No. 35 Board of Directors – Regular Meeting Agenda Marshwood High School – Learning Center Wednesday, 15 June 2022 – 7:00 PM
https://www.rsu35.org/page/board-meeting-stream-information
Reminder: As of March 9, 2022 all MSAD 35 building recommended/optional masking indoors. 7:00 PM Call to Order - Superintendent will call the meeting to order and will preside over the meeting until the election of a Chairperson.

Hike Through History Central School's 27th Anniversary Hike Through History Changing Times: Then and Now Date: Monday June 6 Location: The Hamilton House Time: 9:15-1:30 Link to: Family Letter Changing Times 2022
https://5il.co/1bj2l

Central School and the PTO need your help! The end of the year is always a busy time, but with your help, we can end it filled with fun educational experiences, community building, and great memories for students and families. It is good to have our activities back after so long! Sunday 6/5 Bounce Into Summer with Us! Central School PTO end of year celebration. 1-3:30 overall time, volunteers needed only for ONE HOUR shifts. Each inflatable needs an adult at the start and finish for safety. We need all volunteer slots filled to make this event happen. Kona Ice Truck will be on-site also! Sign up below
https://m.signupgenius.com/#!/showSignUp/10c094caaaa2baaf94-bounce
image.png Friday 6/10 Field Day Join us and help make field day a big success! Morning and afternoon volunteer options. Kinder and Pre-K are slightly shorter days, with volunteer opportunities also. Sign up below.
https://www.signupgenius.com/go/10c094caaaa2baaf94-field
image.png All of these great events are ONLY POSSIBLE with VOLUNTEER help. Please consider finding a couple of times you could support these events. Thank you! Central School PTO

Maine School Administrative District No. 35 Link to full agenda:
https://5il.co/1bch5
Board of Directors – Regular Meeting Agenda Marshwood High School – Auditorium Wednesday, 01 June 2022 – 7:00 PM
https://www.rsu35.org/page/board-meeting-stream-information
Reminder: As of March 9, 2022 all MSAD 35 buildings recommended/optional masking indoors. 7:00 PM Call to Order Recognition of Top Ten MHS Students Honoring District Retirees

Help is needed at the start of Hike Through History! The groundskeeper at Vaughn Woods has requested help with parking at this year's event. We need 4-5 people to help him keep things moving smoothly and safely. Can you spare just 35 minutes to help? What- Help game warden with parking When - Hike Throogh History Morning, 8:30-9:05, June 3rd Where - Meet at the entrance to Vaughn Woods After helping you can join your student for their Hike Through History. Please send us an email if you can help. Thanks! Central School PTO
SoBCentralSchoolPTO@gmail.com
PS - Carpooling is highly recommended

Come Bounce Into Summer with Central School PTO! When - June 5th, 1:00-3:30 pm Where - Central School Back Field What- Inflatable Obstacle Course, Inflatable slide, Bounce House and Kona Ice truck. Free to Central School Families. Sign up to help for an hour so we can make this event a great one!
https://m.signupgenius.com/#!/showSignUp/10c094caaaa2baaf94-bounce
image.png

May 23, 2022 A message from MSAD 35 MAINE Dear District Families, On Friday, May 20, 2022, The J. M. Smucker Co. issued a recall of select JIF ® peanut butter products sold in the U.S. due to potential Salmonella contamination. The recalled peanut butter was distributed nationwide in retail stores and other outlets. Recalled products include the products below with lot codes 1274425 – 2140425 (to find the lot code, look alongside the best-if-used-by date). Prior to the notification of this recall, this product was served in the cafeterias at Eliot Elementary and Great Works Elementary. As soon as the cafeteria team was notified of the recall, they diligently reviewed the products in our kitchen pantries and disposed of the affected peanut butter product, following rigorous protocols for recall situations. Marshwood School District continues to serve alternative brand peanut butter and pre-packaged peanut butter and jelly sandwiches that are not part of the recall. Families with questions about the peanut butter they may have purchased from retail locations can visit the J.M. Smucker Company announcement on the FDA website. If you have further questions, please contact Karan Pfingst, Food Services Director at (207) 384-4500. Sincerely, Karan Pfingst, Food Services Director

May 20, 2020 Hello, A couple of quick updates on COVID testing and Vaccines in Maine. Yesterday the CDC's Advisory Committee on Immunization Practices endorsed the booster for children at least five months after they received their two-dose series. This would be a third dose for healthy children and the fourth dose for children who are immunocompromised. You can check with your PCP or COVID-19 Vaccination in Maine to schedule a vaccination. Free COVID tests are available to order again through
https://www.covid.gov/tests
and
https://www.accesscovidtests.org/
. They are also available in the front offices at your children's schools, one box of 5 tests per student. Thanks very much! The Marshwood District Nurses

Special Olympics Update Good afternoon all, Today our York County Area Management Team and the planning committee at Noble High School met to discuss the current uptick of Covid-19 cases within York County. It is with a heavy heart that we bring you this news today (a week before the games). We have made the difficult decision to cancel this year's 2022 York County Spring Games at Noble. With the increase of cases in our area, we think it is best not to gather in large groups at this time.

A few important updates from your PTO- The PTO had a movie night planned for this Friday, May 13 but it has to be cancelled at this time. We will keep you posted if we are able to reschedule. Do mark your calendars for Sunday, June 5th, 1:00 at Central School. The PTO will be putting on an end of the school year celebration. More information to follow. Join us next Tuesday night, 5/17, at our next PTO meeting. Weather permitting we will meet outside of Central School at 6:30. (inside if bad weather) We will be gearing up to support the end of year needs and traditions for students and staff. Hike through History, tie dyeing shirts, field day, visiting artist,....so many great things coming up!! Meetings are only an hour and you can get the scoop ahead and help support the school community. We are also looking for a new treasurer starting next year. Our current treasurer would be happy to discuss it with anyone that would like to learn more. Thank you, Central School PTO
SoBCentralSchoolPTO@gmail.com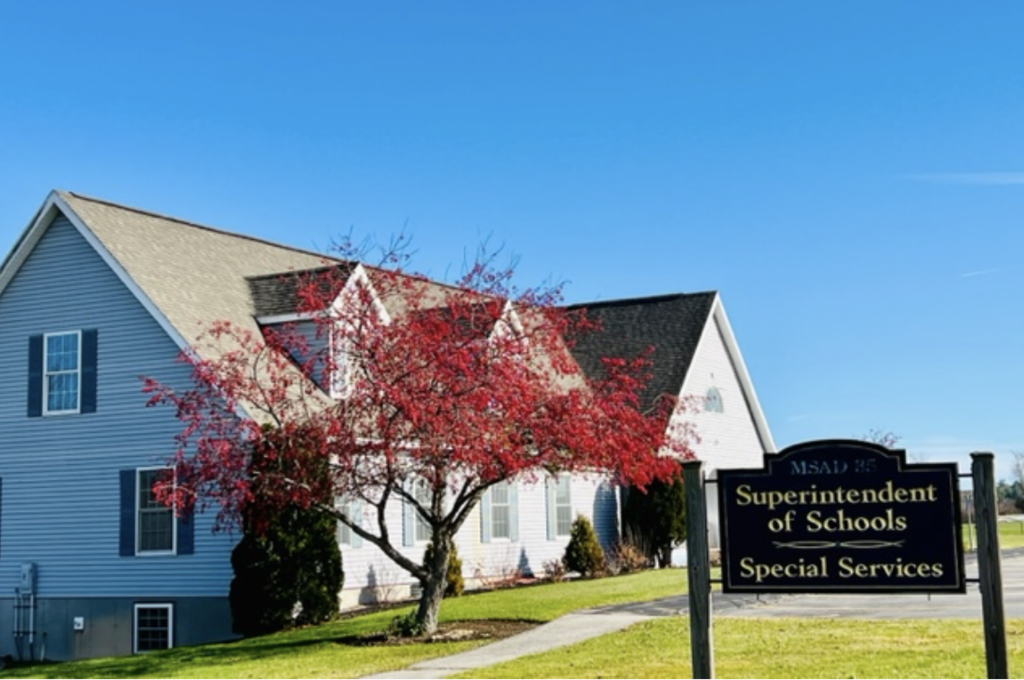 Registration of New Marshwood Students Now is the time to register your student that is new to the district. It is important to register your PreK or Kindergarten student that is new to the district. This allows our administrators to plan for next year. Here is the link to the website that is used for student registration:
https://rsu35.sites.thrillshare.com/page/student-registration
The website looks like this: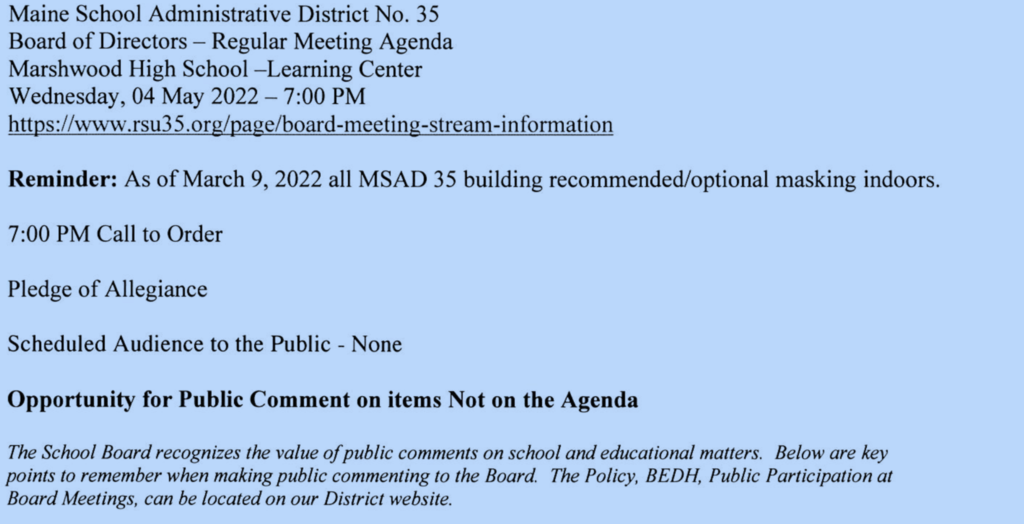 Central School Second Grade Concert May 4 Hello everyone! I am excited to share that we will have a second-grade concert on Wednesday, May 4th at 6 PM in the Central School gym. I am asking that second-grade students arrive by 5:45 PM so we can warm up and be ready to go. I know that many students have after-school commitments. It is our hope that all students will be able to come. Concert attire: I am encouraging students to wear something that makes them feel special. That might be an outfit from a holiday or event but it does not have to be fancy. I do want to emphasize they should wear comfortable shoes because we will be dancing! Please let me know if you have any questions, I can be reached at
kate.smith@rsu35.org
. Cheers! Kate Smith Central School Music Teacher

June 15th LAST DAY OF SCHOOL FOR STUDENTS ½ DAY Afternoon PreK students' last day of school will be June 14th

May Events

Central News Flash May

SAVE THE DATE Central School's 27th Anniversary Hike Through History Changing Times: Then and Now Date: Friday June 3, 2022 (rain date Monday June 6) Location: The Hamilton House South Berwick, Maine Time: 9:00-1:30 On Friday June 3, Central School will hold its 27th Annual Hike Through History! Students, staff and community volunteers from Central School, Marshwood Middle School, Historic New England and Old Berwick Historical Society have collaborated to create an exciting day of learning for all. This hike will take place at the Hamilton House on the Salmon Falls River.