Playoff rankings, brackets and opponents for Field Hockey, B & G soccer and volleyball should be made public by 1pm on Wed Oct 20th
Boys soccer ends their regular season with a 4-1 win over Portland! Finish season 11-2-1. Goals today by Trevor Wozny (2) James Melino and Abram Cartmill!! Nice job boys
Jv girls soccer sneaks out a 1-0 win over Portland
Girls soccer 0-0 time w Portland
Marshwood FH defeats South Portland 5-0 in season finale. Scorers: Ella Holland Emily Johnson Reece Forrester 2 Becca Renaud . Erika Parker w 2 assists

Marshwood lost a hard fought game to Biddeford, 2-1. Hawks goal by Eva Hersey, assisted by Becca Renaud. Great game by all; standout play by Maddie Labreck and Erika Parker.

Marshwood boys soccer with a 7-0 win over Noble. Goal scorers were: Wyatt Yager Rowan Carter (2) Andrew Daskoski Milo Closson James Melino Max Rafferty

October 13, 2021Dear Families, Due to the level of COVID activity in our communities and the need to get relevant information to you quickly we have started to use the district's messaging system Thrillshare. You will receive a text, voice message, and email indicating that your child has been identified as a close contact and what the parameters of their quarantine are. It will also inform you that an email with additional information will be forthcoming shortly. This second email will be sent from an Infinite Campus email address and you can expect it within a few hours following the initial message. The follow-up email from the Infinite Campus system will detail the exposure date, recommended test dates, end of quarantine date, and general information on quarantine, isolation, testing, and community support. The entire nursing team follows the close contact guidance diligently and bases the information you receive on our most current records. The level of quarantine depends on where the exposure occurred (classroom, lunch, bus, sports), your child's vaccination status, and whether or not they participate in pooled testing. Last year's identification as being a close contact meant quarantine for 10 days for all. Today, vaccinations, pooled testing participation and the district's mitigation measures allow for most identified close contacts to remain in school. To help this process and ensure you and your student get the most accurate information, please provide a copy of your student's COVID-19 Vaccine card if you have not already. Please also provide any updated phone numbers or other contact information to your student's school. While we would prefer to contact you via phone directly, we have come to the realization that in the interest of time this system is the better option. That said, we understand that there will be questions and we encourage you to reach out to your school nurse for any that you may have. We also recognize that a robocall from an unknown number with this kind of information is unsettling and if we could do it differently we would. Thank you for your patience and understanding. Our primary objective is to keep our schools and everybody in them as safe as possible and this change in messaging will help in that. Best, The Marshwood District Nurses

October 13, 2021 Hello Parents and Students, We were notified today that Sanford Regional Technical Center and Sanford High School will be moving to remote learning for Thursday, October 14 and Friday, October 15. The move is a direct result of CDC recommendations in response to the rising number of COVID-19 cases. Their plan is to remain remote for the next two days and reassess as the return date approaches. Marshwood High School students attending SRTC should do one of the following: If you have your own transportation, you may access your SRTC program from home. Morning SRTC students may access their classes and arrive to Marshwood High School for their afternoon classes. Afternoon SRTC students should attend their Marshwood classes in the morning and may leave to access their SRTC program at home. Students who need to access their SRTC program from Marshwood High School may do so. Please go to the main office, and they will direct you to your work space. Please note that tomorrow, Thursday, October 14, is a late start schedule. Thank you for your flexibility. Please know we will support students with any interruptions caused by this adjustment. Best- Rob Scully

Hawks defeat Noble in girls soccer 2-1. Lilli Hammond scored with an assist from Jadyn Eastman. Aoife Coomey scored unassisted. Sam Arnold had 8 saves. Hard fought win with another playoff contender. The defense played well tonight.

Marshwood girls soccer with a hard fought 2-1 loss at Scarboro. . Lucy Parker scored on a pk late in the second half. Sam Arnold recorded 24 saves. JV lost 4-0
Marshwood xc dominates at home The Marshwood girls and boys cross country teams ran to easy victories at home to close out the regular season. The Hawks had the first three girls across the line, with Sarah McClellan running to victory on the tough 5k course in 20:32. Teammates Addie Fuller (20:46) and Emma Tessier (22:45) were second and third overall, with Brynn Butler (9th, 24:41) and Laura Horvath (13th, 26:45) rounding out the Hawks scorers. Marshwood's 28 points topped Noble (44), Sanford 52) and Massabesic (N.S.). In the boys race, the Hawks showed the strength of their pack, placing all five scorers in the top 10 overall. Braden Butler (3rd, 18:17) led Marshwood, with Sam DeGrappo (5th, 19:21), Finn Theos (6th, 19:28), Gehrig Hatch (7th, 19:34) and Hayden Sawyer (8th, 19:35) as the other Hawk's scorers. The boys team finished the regular season undefeated with a 10-0 mark, while the girls team was 8-2. With strong finishes at recent invitationals, the Hawks seem ready for a strong postseason. Their next race is at the Southern Maine Regional Championship in Cumberland, Maine, on Saturday, 10/23
Marshwood boys soccer with a huge 2-1 win over Scarborough. Goals from Declan Fitzgerald and Connor Walker.
Great day for a xc meet at Marshwood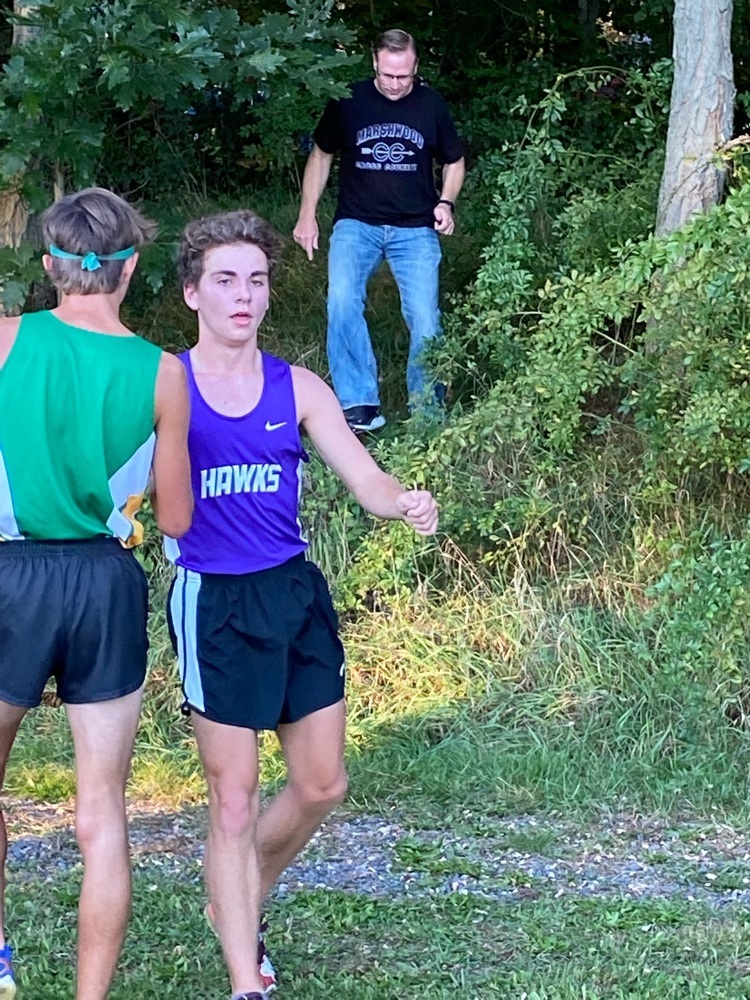 Marshwood Volleyball wins in an epic 5 set thriller at Bonny Eagle. The fifth set went to the wire with our girls closing it out to win by two points. Nice job VB team
Great win for our varsity field hockey program over Portland today! 4-1 win for the Hawks!

Marshwood volleyball defeats a very tough Deering team 3-1 in Class A action at Marshwood