Reminder for Marshwood Middle School and High School Students and their Families Please check the dates and times for the MMS and MHS flu clinics. Please remind your children if they are scheduled to receive a flu inoculation. Marshwood High School 8:30am-10:30am Tuesday 9/19/23
https://5il.co/247rj
Marshwood Middle School 8:30am-10:30 am Friday 9/22/23
https://5il.co/247ln

Maine School Administrative District No. 35 Board of Directors – Regular Meeting Agenda Marshwood High School Learning Center
https://www.rsu35.org/.../board-meeting-stream
... For the complete agenda go to:
https://5il.co/2506l
Wednesday, September 20, 2023 7:00pm 6:15pm Finance & Facilities 7:00pm Call to Order Pledge of Allegiance

The following is a list of what is going on with Marshwood Games/Contests today.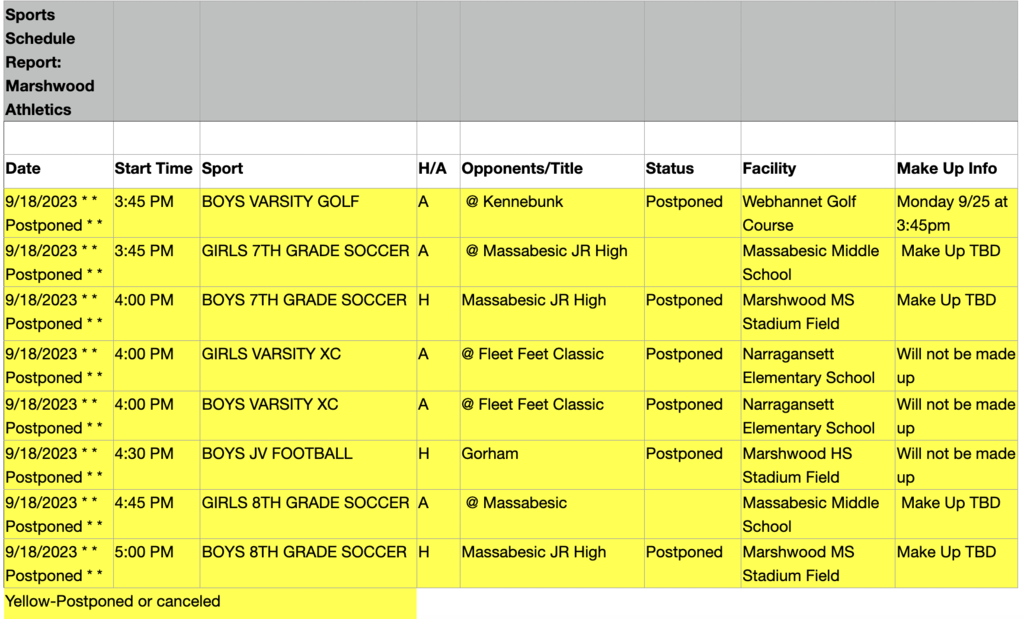 Marshwood Middle School Employment Opportunity

Here is the update for athletic contests for Marshwood for Wed Sept 13th V/JV Field Hockey vs. Bonny Eagle postponed. Makeup will be 9/14 Varsity only at 4:30pm at MHS V/JV Girls Soc at Sanford HS (turf) .....ON As scheduled 7th Grade Boys & Girls Soccer at Thornton Ac is postponed. Makeup TBD



Maine School Administrative District No. 35 Board of Directors Live Stream:
https://www.rsu35.org/page/board-meeting-stream-information
For The complete Agenda for August 23, 2023
https://5il.co/22nq
Regular Meeting Agenda Marshwood High School Learning Center Wednesday, August 23, 2023 7:00pm 6:15pm Finance & Facilities Meeting 7:00pm Call to Order Pledge of Allegiance Scheduled Audience to the Public

August 2, 2023 Good Evening Late this afternoon, MSAD 35 was notified by the Eliot Police Department of an elevated police matter near Depot Road. In collaboration with the Eliot Police Department, the Marshwood Middle School parking lot was used as a staging area for the York County Emergency Response Team. The situation does not involve the MSAD 35 Schools, other than our partnership with our local police departments. The Eliot Police Department will be releasing information at a later time. Respectfully John Caverly Superintendent of Schools MSAD 35

Updated Registration Please make our checks to MSAD#35 and send to Michelle Jones at the Superintendent's Office 180 Depot Road Eliot, ME 03903 Lego Robotics Camp at Marshwood Middle School Welcome to the exciting world of LEGO Robotics Camp! Get ready for an immersive and hands-on experience that combines the endless possibilities of LEGO bricks with the power of robotics. Campers will build and program their own robots using EV3 LEGO Mindstorms and the latest LEGO Spike Prime materials, while learning engineering and coding skills. Through teamwork, they'll develop problem-solving abilities and have a blast in a safe and inclusive environment. Join us for an unforgettable experience that sparks creativity and fosters a love for science and technology! Welcome: Beginners and experienced builders in 4th - 8th grade Date: Mon-Thur 6/26 - 6/29 9am-12pm Fee: Resident $115, Non-Resident $125 Location: Marshwood Middle School Technology Room Transportation not provided, parents must provide transportation to and from. Facilitator: Mary Macedo, MMS Technology Teacher For more information, please contact: Mrs. Mary Macedo at
mary.macedo@rsu35.org
Please fill out and return with payment to: Please make your check out to MSAD 35 Mary Macedo, Marshwood Middle School, 626 Dow Hwy, Eliot, ME 03903 There is a $115.00 MSAD35 Resident fee for each child registered. There is a NON-RESIDENT fee of $125.00 for each child registered. Child's Name ___________________________________________ Age: ________ Grade in the Fall 2023________ Parent Name ______________________________________________________ Address ___________________________________________________________ Home Phone ______________________________________________________ Cell Phone ________________________________________________________ E-mail Required ___________________________________________________ We are greatly concerned about the safety and quality of our programs, but occasionally a student will be injured and require medical attention. Therefore all students participating in the challenge course program must carry insurance. Name of Private Carrier: ___________________________________________ Policy Numbers and Addresses: _____________________________________ Did you purchase Student Accident Insurance? ( )Yes ( )No If yes, coverage type: ( )School Time ( )24-hour Plan ( )Football ( )Dental *VERY IMPORTANT Please list any INJURIES, MEDICATIONS, ALLERGIES, OR OTHER IMPORTANT MEDICAL INFORMATION about your child: _____________________________________________________________________________________ _____________________________________________________________________________________ Parent Signature____________________________________Date_____________________


School Budget Validation Election Results: South Berwick 153 Yey 33 Nay Eliot 513 Yay 178 Nay School Board Representative for Eliot Jennifer Therrien elected.

Please be advised that the last late bus will be running tomorrow afternoon. If you plan on staying after school for any activities next week or miss the bus, we ask that you plan to make arrangements for your own transportation to get back home.

School Board Agenda for Wednesday, June 7, 2023 5:30pm Maine School Administrative District No. 35 Board of Directors Regular Meeting Agenda Marshwood High School Learning Center
https://www.rsu35.org/page/board-meeting-stream-information
For completer agenda go to:
https://5il.co/1vwty
Wednesday, June 7, 2023 5:30pm 5:00pm EXECUTIVE SESSION Consideration and action to enter into an Executive Session for the purpose of Labor Contract Proposal discussions between MSAD #35 and Superintendent of Schools pursuant to Title 1 M.R.S.A. § 405(6)(D) Motion: Second: Vote: Yea: Nay: Executive Session Adjournment - Motion: Second: Vote: Yea: Nay: 5:30pm Call to Order Pledge of Allegiance Special Recognition for: Report of the Superintendent Top 10 Marshwood High School Students Leah Maddison - Valedictorian Alex Dixon - Salutatorian Abigail Simonelli Ryan Pote Sean Williams Jonah Nobel Charlotte Daniels Grace Ducharme Jonathan Sawyer Jared Herrin Recognition of Senior Student Representative to the Board Honoring our District Retirees ● Gail Simone, Special Education Teacher, 40 years ● Cindy Festervan, Food Service, 15 years ● Bonnie Dolph, Food Service, 18 years ● Pam Bates, Administrative Assistant, 25 years ● Kenneth Hopkins, Special Education Teacher, 5 years

As the school year draws to a close, the 8th graders are gearing up for their visit to Hilltop Fun Center on Wednesday, June 14th. 8th-grade parents have kindly offered to provide breakfast for the students in the school cafe from 8:50 - 9:25 am. We're looking forward to a day full of excitement and adventure, so please make sure to submit your permission slips and arrive at school on time. Regarding spending money for the Hilltop Fun Center trip, it's up to each parent's discretion. On the premises, there are plenty of arcade games, snacks, and ice cream available for purchase.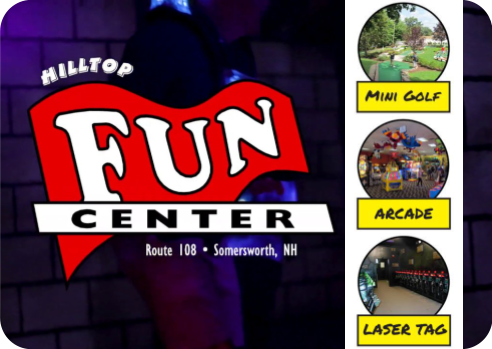 District School Budget Passes at District Budget Meeting

The Q3 2022-2023 Honor Roll is now posted! Congratulations to all the students who made the honor roll in Q3! Your hard work and dedication to your studies have paid off, and it's truly inspiring to see so many of you achieving such great success. Whether you're a straight-A student or you made significant improvements this semester, know that your efforts have not gone unnoticed. Your teachers, parents, and peers are all proud of your accomplishments, and you should be too! To those who didn't make the honor roll this time around, don't get discouraged. Keep pushing yourself and striving for excellence, and we have no doubt that you'll achieve great things in the future. Once again, congratulations to all the honor roll students. You are setting a great example for others to follow, and you should be proud of all that you've accomplished. Keep up the great work!

Dear Families, In order to provide easier access to mandatory vaccines, we are partnering with Northern Light Home Care and Hospice to provide these clinics for our students on May 25th 2023 MHS from 10:30-12 MMS from 1 - 2:30 pm Please read the Vaccine Information Statement attached to this letter and complete the attached Vaccine Immunization Record/Consent form and return to school by May 18th. All forms must be filled out completely. Children presenting with an incomplete form may not receive a vaccine. There will be no out of pocket cost and no child will be turned away due to inability to pay. Consent Form
https://5il.co/1u3dr
Meningococcal VIS
https://5il.co/1u3ds
Tdap VIS
https://5il.co/1u3dt
Thank you and please let us know if you have any questions or concerns. The Marshwood District Nurses Please note the highlighted sections below for immunizations required for entry into the 7th and 12th grades. If your student has received immunizations recently, please request a copy of their updated records and send them in to your child's school nurse. Maine School Immunization Requirements All children enrolled in a public or private school in Maine must have the following immunizations. Required for Kindergarten entry: • 5 DTaP (4 DTaP if 4th is given on or after 4th birthday) • 4 Polio (3 Polio if the 3rd is given on or after the 4th birthday) • 2 MMR (measles, mumps, rubella) • 2 Varicella (chickenpox) Required for PreK entry: • 4 DTaP • 3 Polio • 1 MMR • 1 Varicella (chickenpox) Required for 7th grade entry: • All previously required vaccines • 1 Tdap • 1 Meningococcal Conjugate Vaccine (MCV4) Required for 12th grade entry: • All previously required vaccines • 2 MCV4 (only one dose is required if the 1st dose is given on or after 16th birthday)

Good News from the Marshwood Athletic Department There are two ways to access the most current sports schedules for our kids grades 6-12. The first way is at Digitalsports.com. Our link to this is:
https://marshwood.digitalsports.com/
Once you reach this site there are dropdowns for all seasons and sports and you can select games or practice schedules. You can also sign up for alerts (e-mail or text message) if you are interested in getting up to date info on changes, cancellation, postponements, etc. for certain sports. The second way is through our RSU35 website it is linked to our GOOGLE calendar High School (all the way at bottom of page)
https://www.rsu35.org/o/activites
Middle School (also at bottom of page)
https://www.rsu35.org/o/mms
Rich Buzzell, C.M.A.A. Athletic Administrator & PE Health Department Head 2022-23 MIAAA President Marshwood School District 207-384-4500 x2121

Sign up for Marshwood Youth Basketball Camp!