Breakfast and Lunch Program for the District Hello and Happy Summer, I am writing to let you all know about our totally FREE Summer Break Feeding Program. Similar to our programs in the past, (Thanksgiving, Christmas, Spring Break and Winter Break) we are preparing FREE balanced breakfasts and lunches for six weeks during the summer break. This program is for all children the age of 18 and under in the Marshwood community regardless of their student status. Please fill out the order form attached indicating the days you would like to pick up meals for your children, how many children you have in your household and where you will be picking up the meals. Pick-up days will be as follows. Monday for Monday and Tuesday meals Wednesday for Wednesday and Thursday meals Friday for Friday, Saturday and Sunday meals Pick-up time will be between 10:00 am until 12:00 pm each pick-up day at the Central Elementary School or Eliot Elementary School only. I hope you find this program useful and participate in it as much as you can. We take pride in our work and we would like to see this program be successful and help as many families in the community as we can. Summer Break Order Form: Please hit Control + Click on the URL to follow the link.
https://forms.gle/26x5a3gpN8ic
... Thank you and stay safe, Stephen Baldoumas Director of Dining Services Marshwood School District 207 384 4500 ext. 67120
stephen.baldoumas@rsu35.org


A Message from the Technology Department How to return student laptops and other devices
https://5il.co/uljv

MSAD 35 News June 9, 2021 Dear Families and Staff, First of all thanks for your hard work, patience and support during this school year; it was tough but here we are, June 2021 and things are definitely looking brighter! A couple of notes on the upcoming vaccination clinic: COVID Vaccination Clinics will be held on June 11 at MHS from 8:30-10:00 and MMS from 10:15-12:15. Your student's vaccination card is at the site (school) where they received their first dose. If you need to get the second dose at a different site, please contact the RN at the school where the first dose was administered to pick up their card. Your student can receive the first dose during this clinic. You will need to fill out the consent form for them to bring with them. If you need a consent form, please contact me Judy Doran RN or your school nurse and we'll send one out to you. You are welcome to be present and can fill out a consent on site but your attendance is not required. The Pfizer vaccine has received Emergency Use Authorization for children aged 12 and up and is widely available in Maine if you decide to hold off on getting your child vaccinated now but would like to in the future. COVID-19 Vaccinations are our ticket out of this pandemic. The more people who are vaccinated, the less restrictions we all face and the safer our communities are for all people. I often get too wordy in these letters, but today I'm going to keep it short. Thanks again! Thank you Bus Drivers! Thank you Custodians! Thank you Teachers! Thank you Ed Techs! Thank you Admin Assists! Thank you Food Service Folks! Thank you Families! Thank you Kids! Thank you Admin! Thank you Nurses, every one in every building! You all put in mighty effort and kept up with us as we tried to figure out next best steps. I think the next best step is taking a minute to breathe, giving ourselves credit for this year, allowing some down time, being patient with one another and moving forward. OK maybe some ice cream, parks, mountains, beach, music, dining, hiking, connecting with friends, family, whatever…...just remember you've all been through the wringer, some more than others. Take the time you need to breathe and move forward. Thanks again and here's to summer! The MSAD35 Nursing Team

June 7, 2021 Marshwood Middle School Parents and Guardians, I hope this notice finds you all doing well. I am reaching out this afternoon to provide some guidance with regard to the exceptionally warm weather we are currently experiencing and to answer questions about school attendance. MMS will remain open and in session with arrival and departure times as normal. The plan over the next couple of days will be to keep Marshwood Middle School students free from engaging in moderate to high-energy physical activities during the school day. We encourage all students to keep hydrated which means drinking water and healthy fluids while at home and school. We encourage you to send your child to school with a water bottle and a head covering IE: hat in the event outdoor activities are planned. Peace, Anthony A. Bourbon Principal Marshwood Middle School

May 27, 2021 Dear Families and Students, Marshwood Fall sports sign-up portals on FormREleaf will be opened Thursday May 27th, 2021 for anyone looking to play sports at Marshwood High School and/or Marshwood Middle School next year. Please go on before June 4th to ensure we have accurate numbers for students looking to participate. All High School Fall practices begin Monday, August 16th. All schedules with games and practices will be located on
www.digitalsports.com
. These will be updated by June 11th. All Fall Middle School practices will begin Wednesday, September 8th and all schedules will be located on digitalsports.com as well. Again, please sign up your child during the May 27th through June 4th date so we can get accurate information on teams needed. Coaching contact information will be located on
www.formreleaf.com
on the Marshwood site so you may contact coaches directly with questions.

Students enrolled in the Remote Learning Academy shared their hobbies and interests during the year through "Wellness Wednesdays". They had a chance to showcase their creativity with other students and their teachers.

Today, as Ms. Gray's seventh grade science class learns about hereditary and non-hereditary traits , they take to the halls to interview teachers about their binary traits (only two possible variations for each). Want to know more about this assignment? You might soon. These seventh grade students need to collect data on 15-20 people. After collecting data students will look for patterns and do some calculations. We can't wait see what they discover.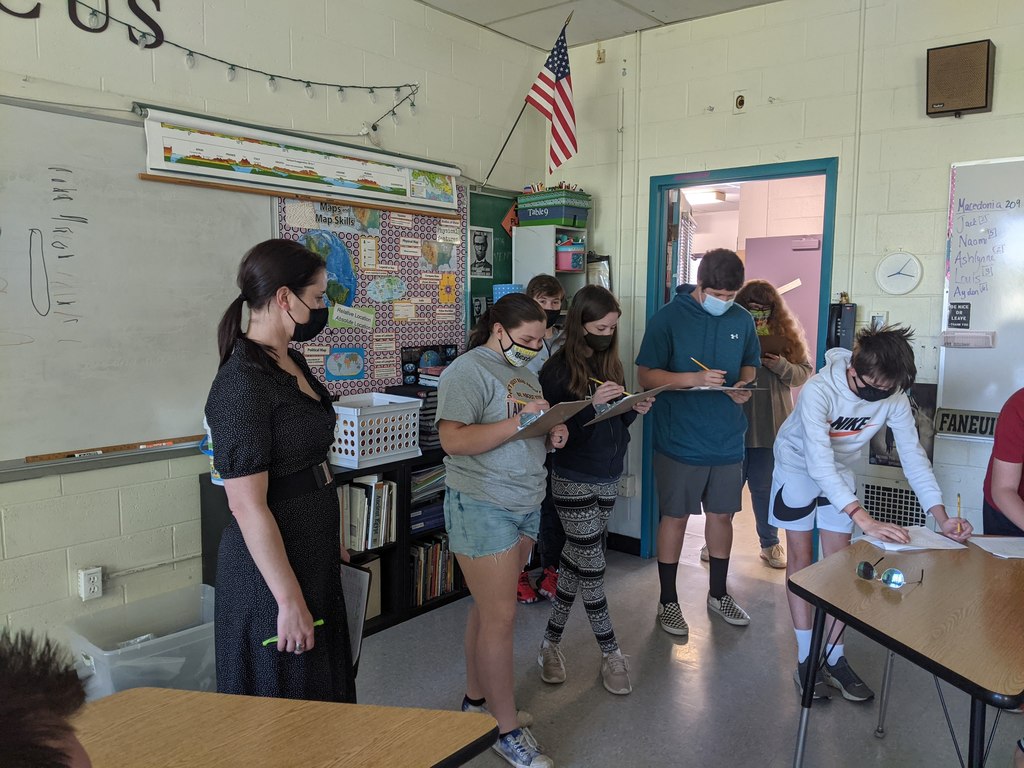 8 Osprey student, Deshawn Toussaint, proudly shows his WWII project for Ms. Amato's class.

Check those shelves, counter tops and desks. MMS library books are due Thursday, May 20th. Have questions about a library book- check in with our library coordinator- Barbara at
barbara.mundell@rsu35.org

All that glitters is gold with these MMS softball players! Before Monday's softball game, the MMS softball team gathered to create signs for the MHS softball players. Shine bright and keep rooting for each other!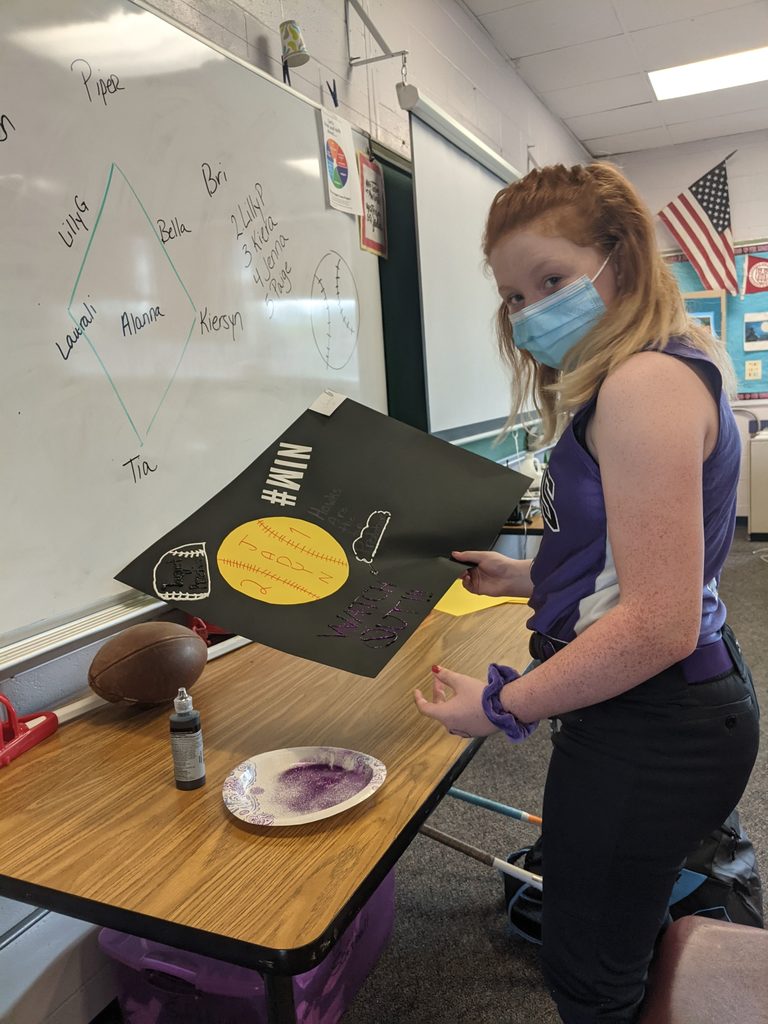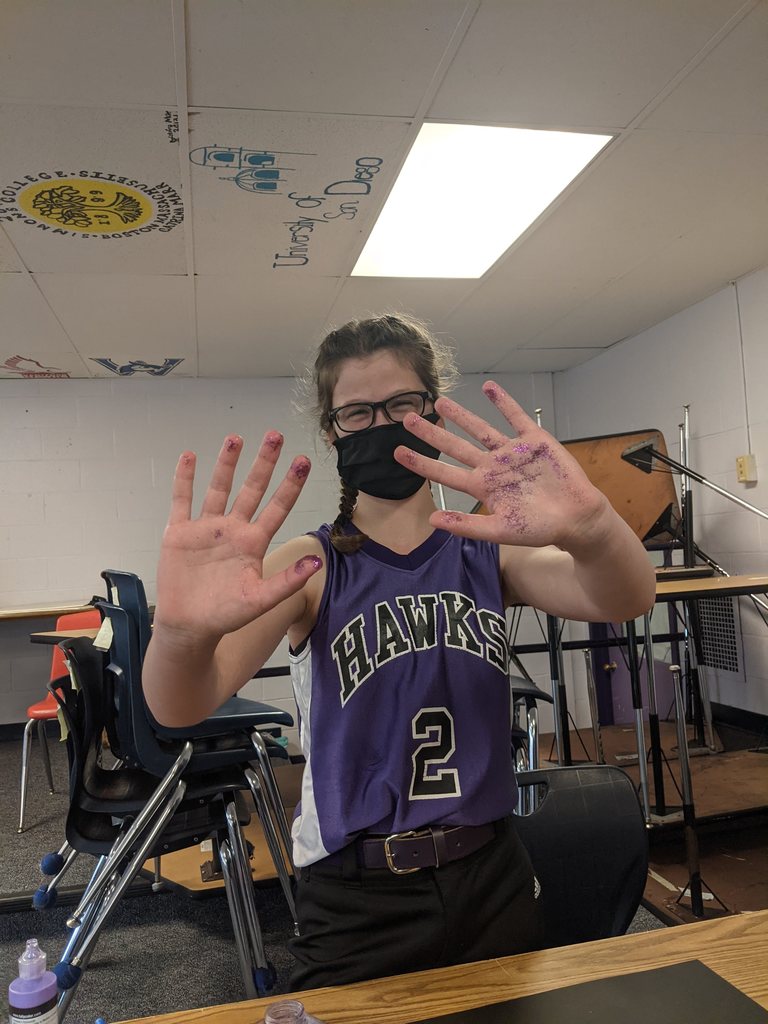 May is testing month at Marshwood Middle School. Last Wednesday and today sixth, seventh and eighth graders took Reading and Math tests. A big shout out to Ms. Camp and Ms. Ring for guiding the teachers and staff through the testing days.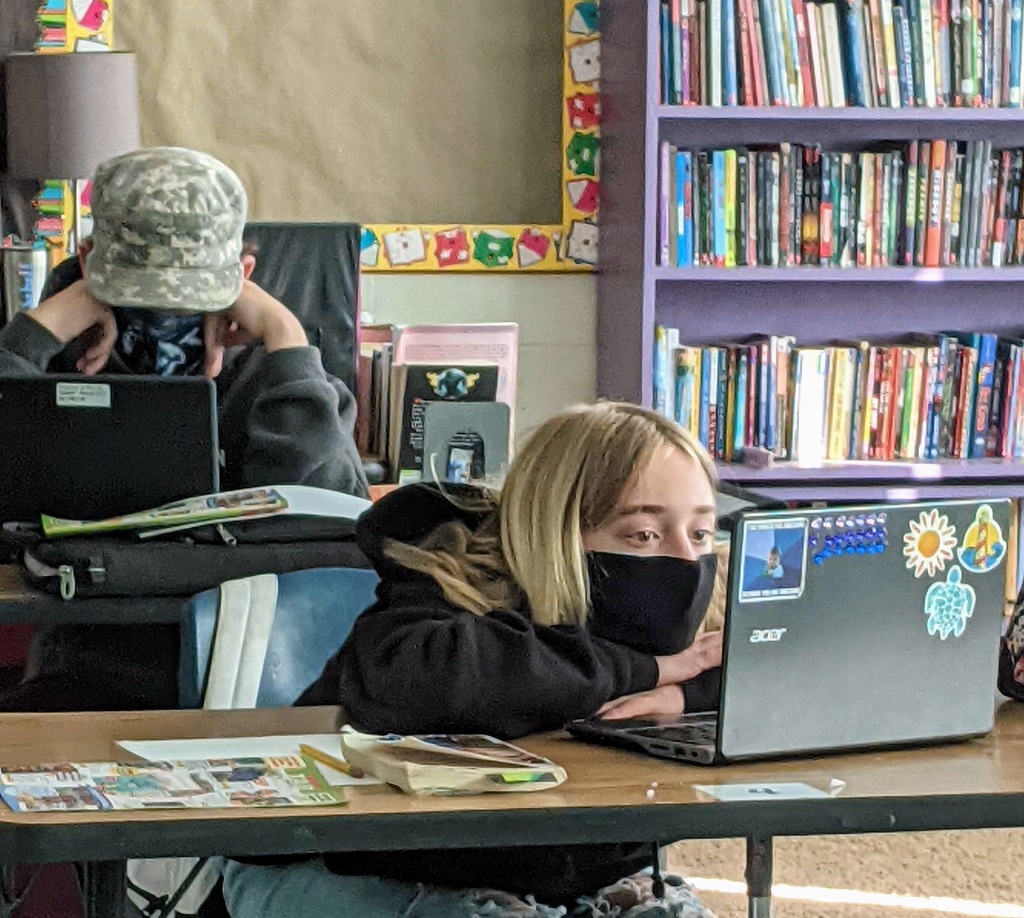 Flag Raisers Grace Hilton and Sarah Galvin fly our colors with pride and honor every Monday and Tuesday no matter what the weather! Thank you for being so patriotic and dedicated!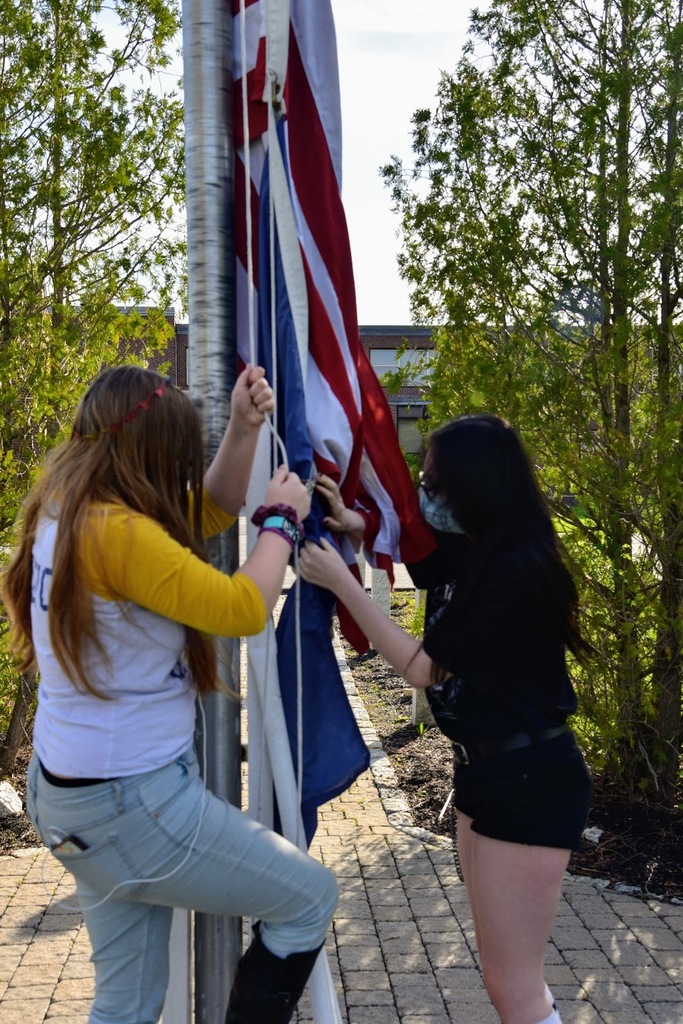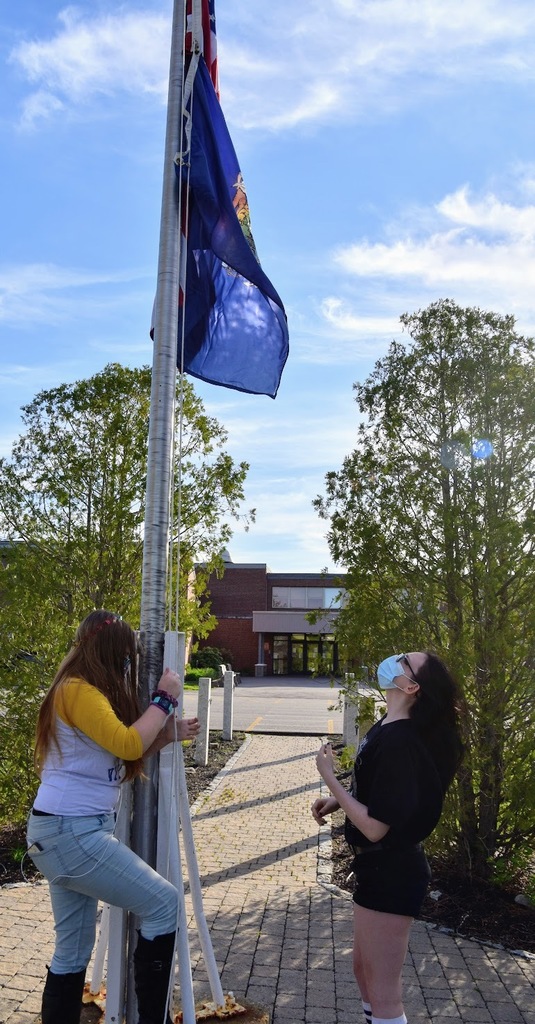 These students couldn't be happier about the mild weather this week. Here is a peek of some sixth and seventh graders having some old fashion fun at recess with a game of four square and some jumping rope.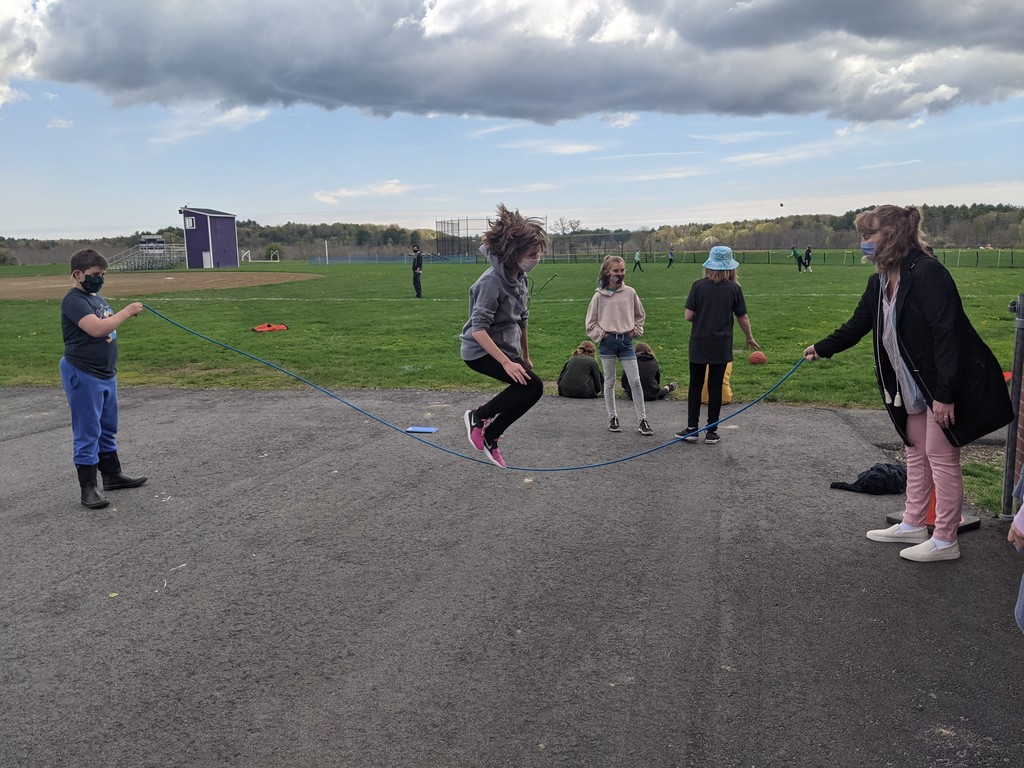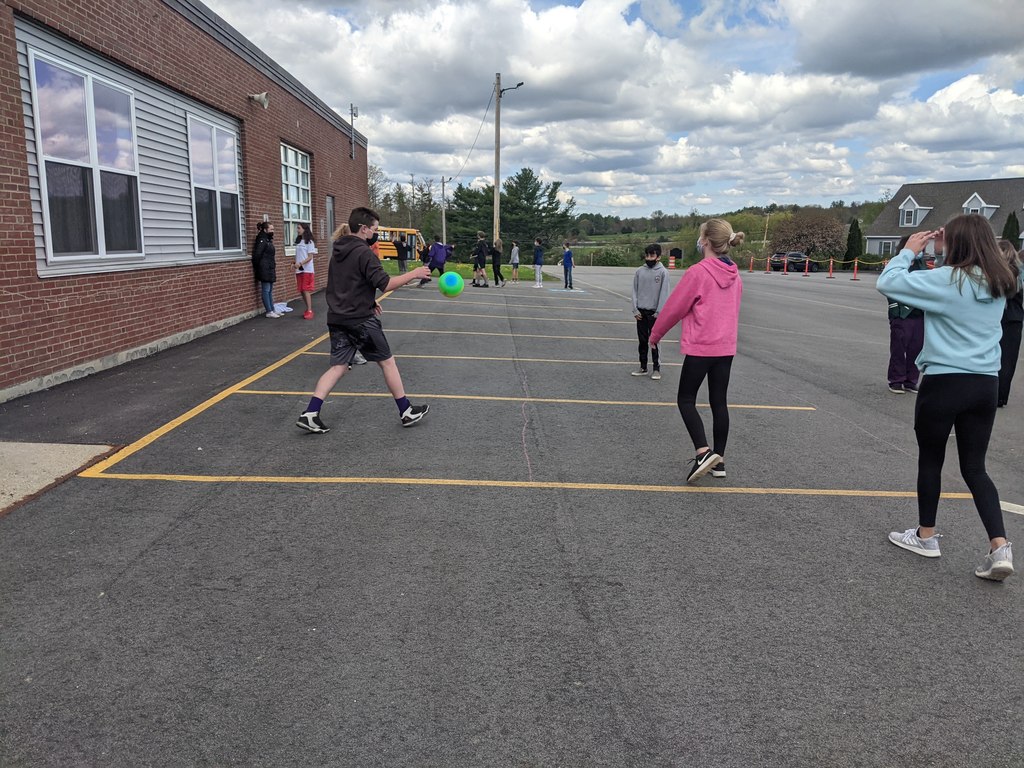 What a Teacher Appreciation Week! The teachers at MMS would like to offer a big THANK YOU to Stephanie Thompson, Student Council and the MMS parents that offered appreciation last week.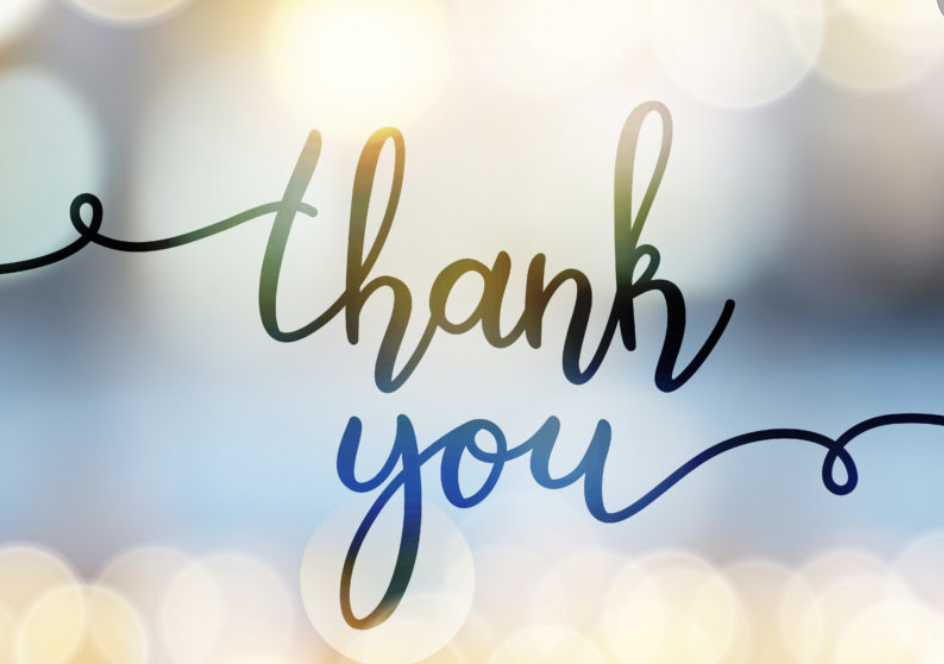 The last day of school will be Monday, June 14. Dismissal will be at 10:45 a.m.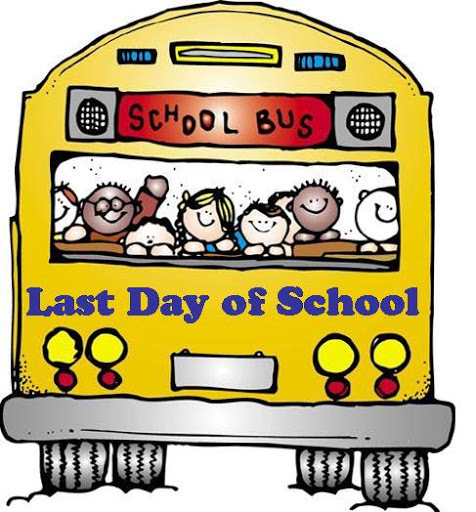 All practices are cancelled for today, Wed., 5/5/21, due to weather.

Did you know that it is Teacher Appreciation Week? Let's face it, this year has been strange. But we're getting through it, thanks in part to our awesome educators! Take a moment to thank a teacher this week.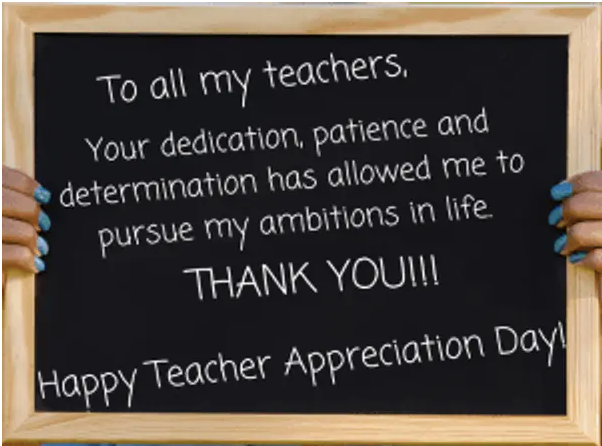 Marshwood Middle School wants you to show off your talent with their "Minute to Win" activity hosted by Student Council. To participate, students will create a short video (one minute or less) showing off their talent. Prizes will be awarded to each category: engineering, gaming, art, singing, instrumental and sports.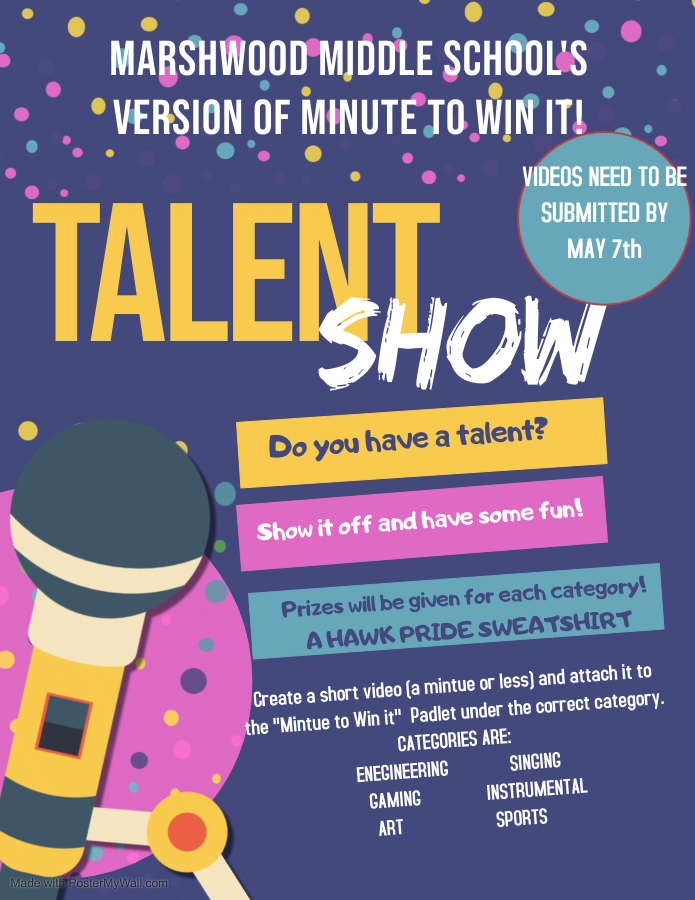 The Parthenon is regarded as an enduring symbol of Ancient Greece, Athenian democracy and Western civilization, and one of the world's greatest cultural monuments.The majestic structure is known for its dignified white marble columns and perfect sense of proportion that held an enormous stone roof. The sixth graders worked to create a paper structure modeled after the Greek Parthenon. Students used a piece of paper and an arm's length of tape to create their structure. Students were challenged to use their materials to build a structure that held 10 books at least four inches off the floor.