February 2, 2023 Good Afternoon, The weather forecast for the next two days calls for extreme cold. I have had some inquiries on the potential of MSAD 35 canceling school tomorrow due to the forecast calling for sub-zero temperatures. For clarity: I do not have any intention of delaying or canceling school tomorrow based solely on sub-zero temperatures. However, if heat were to be out in a building, it may result in cancellation for a particular school. With such large buildings, I have asked that the temperature set point be increased to ensure a productive learning environment. With the forecasted extremely cold temperatures and high winds, our buildings may be cooler than normal tomorrow, so please plan to dress accordingly. There will be no outdoor recess tomorrow. Our Transportation Department will be plugging in each of the buses to warm the engines and we will use fuel additives to prevent the diesel from freezing. In addition, Transportation staff has been asked to report early tomorrow to thoroughly warm the buses and manage issues that may arise. Please consider an extra layer of winter clothes for those students that are waiting for the bus or walking to school/home. With the potential for wind chill dropping the temperatures below -20°F, it is always good to be prepared. Even by Maine winter standards, it is going to be cold! In appreciation, John Caverly Superintendent of Schools

Maine School Administrative District No. 35 Board of Directors – Regular Meeting Agenda Marshwood High School – Learning Center Wednesday, February 01, 2023– 7:00 PM For Complete Agenda go to:
https://5il.co/1o2cw
For livestream go to:
https://www.rsu35.org/page/board-meeting-stream-information
Reminder: As of March 9, 2022 all MSAD 35 building recommended/optional masking indoors. 6:00 PM District Wellness Committee – Learning Center 7:00 PM Call to Order Pledge of Allegiance

Are there any motions delegates would like to bring to the floor? "For posterity sake vote yes!" says Patrick Adams to the parliament in Mrs. Thompson's Social Studies class. In this simulation unit 7th graders have been divided into three groups: Patriots, Neutralists and Loyalists. They have been writing and giving speeches for and against various acts. This is the first of several speeches the students will be giving in their Social Studies class this year.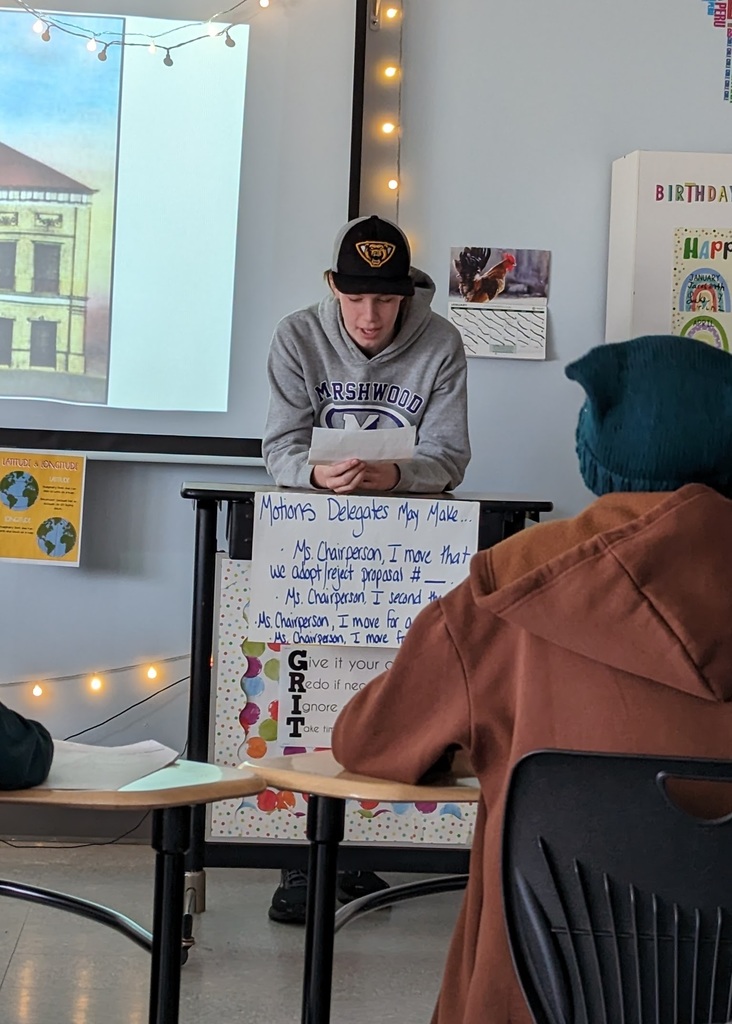 We have made it to the halfway point in the school year! Today the sixth graders stood at their lockers to see how they measure up. At the beginning of the school year teachers marked how tall students were on their locker. The measuring activity is repeated midway through the year and again in June. It is so fun to see the literal growth of the students.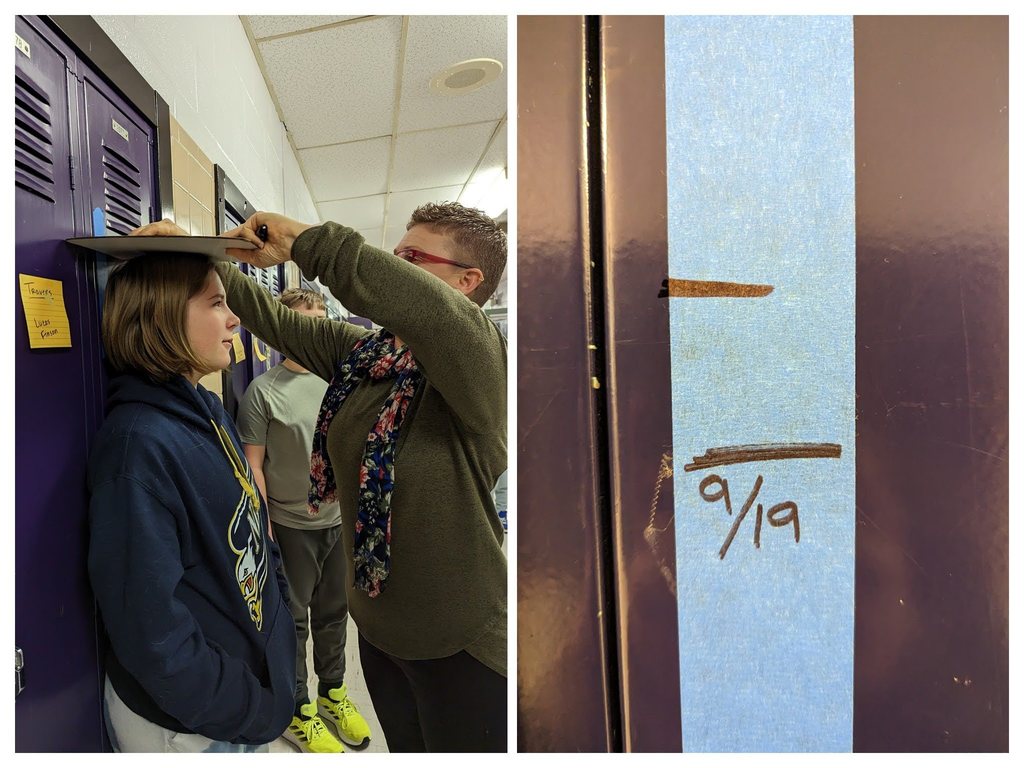 Good Afternoon I first want to say thank you for all of the community support over the past two days. This has been a uniquely challenging situation. At 8:45 this morning, four of our five schools were still without power. I am happy to say that as of 1:30 this afternoon, power has been restored to all MSAD 35 buildings. Central Maine Power has a large number of crews hard at work, restoring power to both communities. Route 236 was closed earlier today and has now been reopened. I am writing to let the community know that it is my intention to have a normal school day tomorrow. That being said, there may still be a number of road closures and homes without power in the morning. If families cannot or do not feel it is safe to send their children to school, your student's absence will be excused. If you rely on district transportation and your road is closed, our Transportation Department will share with you some common stops later this evening where your child could meet the school bus tomorrow morning. Our current areas of concern seem to be focused towards the Wells side of South Berwick. Respectfully, John Caverly Superintendent of Schools

MSAD 35 Good Evening Shortly after sending this evening's storm update, I was contacted by the Town Manager of South Berwick. He is working with York County Emergency Management to respond to the storm. A large number of crews will be deployed to the area tomorrow to continue the clean-up from the storm and restore power. Unfortunately, this will not occur prior to our transportation times. With upwards of 30 roads impacted by downed power lines and. trees/limbs both the Town Manager and I are concerned with the safety of the school community. The town of South Berwick and others in York County have been adversely impacted, we do not want to impede their ability to return the community to normalcy, safely. Therefore, there will be no school in MSAD 35 tomorrow, Tuesday, January 24th, 2023. There will be no call in the morning as school is canceled. Respectfully John Caverly

Good Eventing Due to tomorrow's forecasted heavy snow and freezing rain, there will be no school in MSAD 35 on Friday, January, 20th, 2023. Making this decision in the evening was based on collaboration with our local agencies and done in an effort to give families a chance to make the necessary arrangements due to this cancellation. Please stay safe. John Caverly

There is an upcoming Dance/Activity Night for 8th Graders! 8th grade students are welcome to join us this Friday from 7-9 for our Winter Celebration Dance. Students should bring money if they would like any snacks or drinks. In addition to dancing there will be basketball and video games for added fun! The dance is casual and all students must follow school dress code. Get ready for a fun night!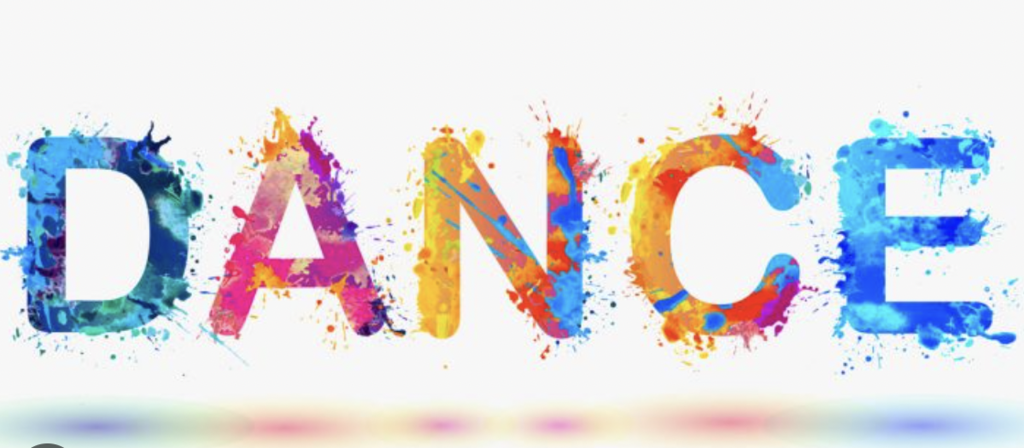 Living in Maine and New Hampshire we are used to our winters being full of snow. This year some students are missing the snow. Last week some of the middle schoolers paused to enjoy the snow as it was falling.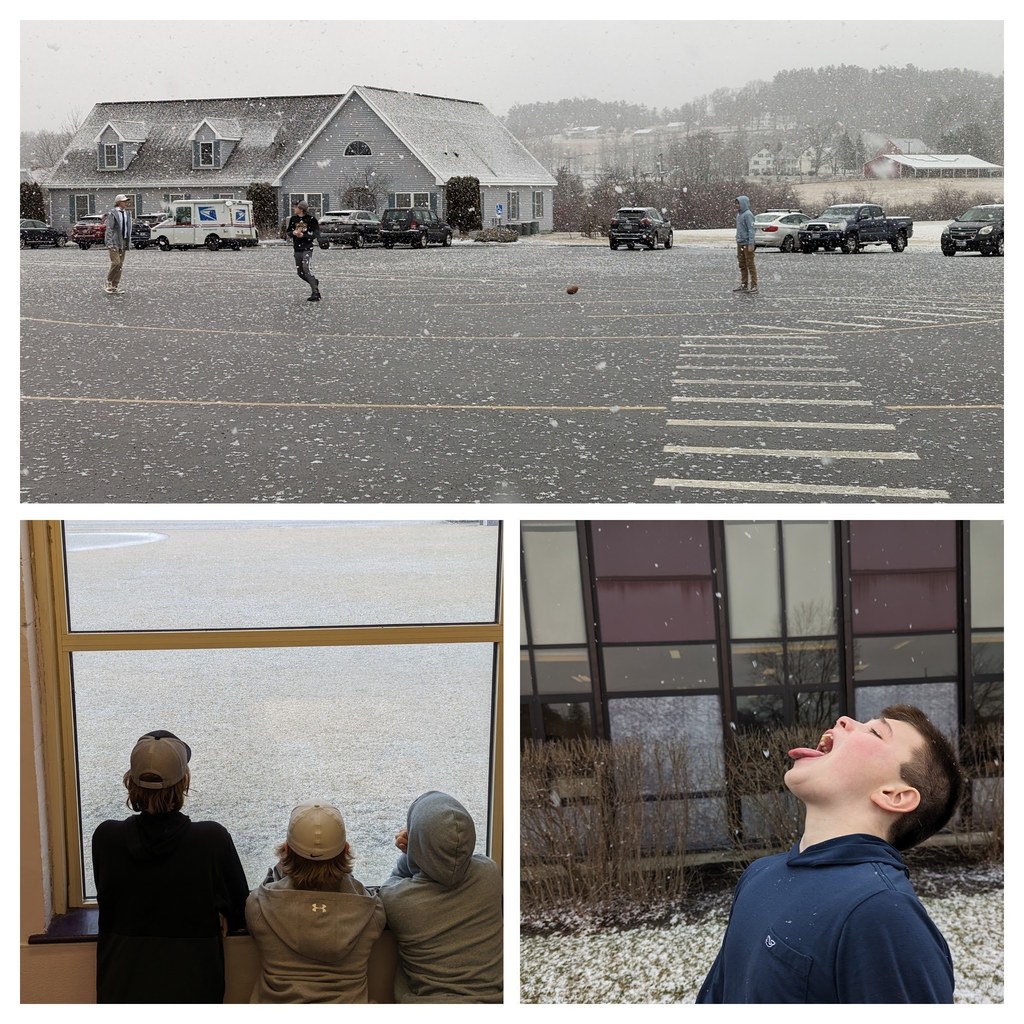 Marshwood Middle School yearbooks are on sale now. Reserve your copy at yearbookforever.com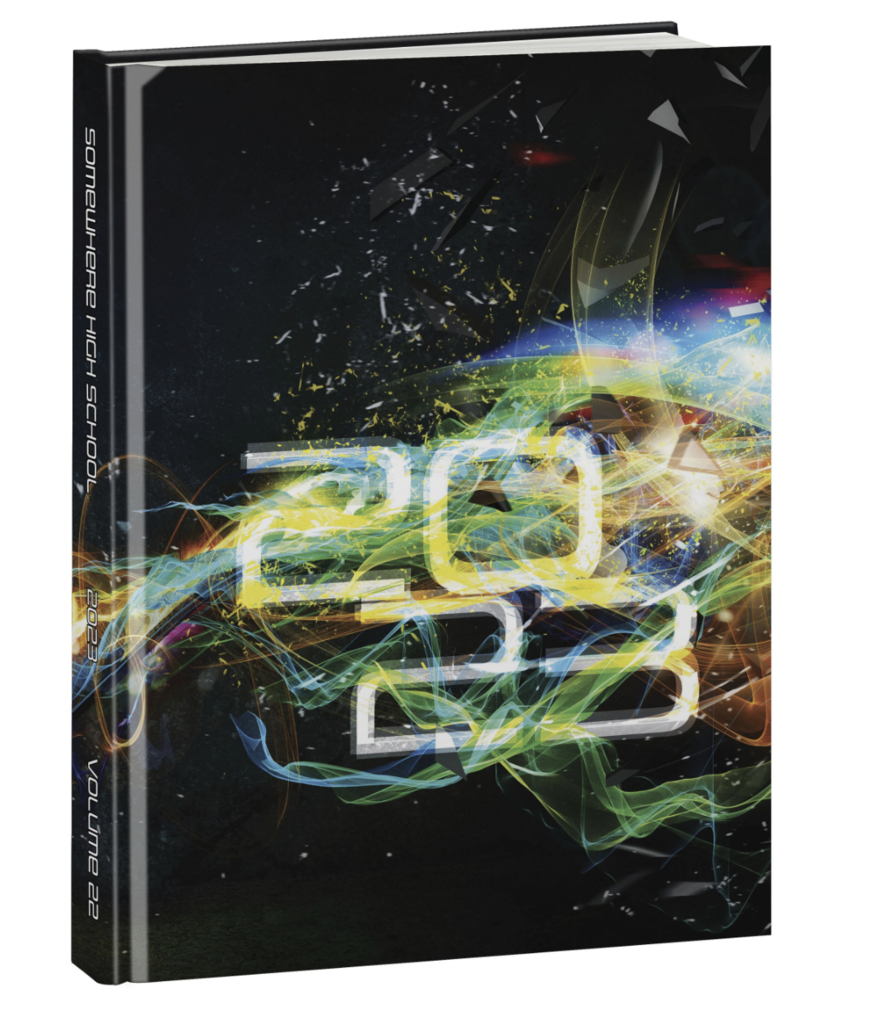 January's genre of the month is here! WHAT IS SCIENCE FICTION? Science fiction stories are set in imagined, futuristic societies with advanced technology and science. The science behind the story should be somewhat believable, which is what makes it sci-fi and not fantasy. WHY SHOULD YOU GIVE THIS GENRE A CHANCE? Science fiction helps us escape reality and exercise our imaginations. It also helps us think about the present and future of science and technology. See Ms. Corriveau in the MMS library for some Science Fiction recommendations! She has some good ones!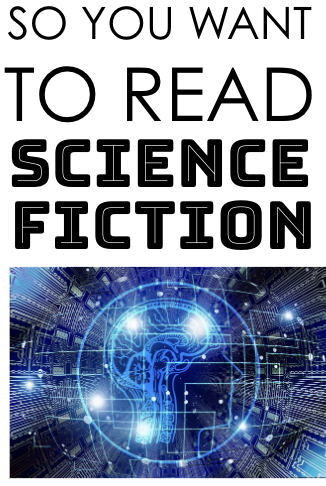 Jan 16 Martin Luther King Jr. Day - No School

Maine School Administrative District No. 35 Board of Directors – Regular Meeting Agenda Marshwood High School – Learning Center Wednesday, January 4, 2023– 7:00 PM For complete agenda go to: Board Agenda for January 4, 2023
https://5il.co/1mgny
Link to livestream
https://www.rsu35.org/page/board-meeting-stream-information
Reminder: As of March 9, 2022 all MSAD 35 building recommended/optional masking indoors. 5:30 – 6:30 PM Rollinsford Workshop 6:30 – Wellness Committee 7:00 PM Call to Order Pledge of Allegiance

Good news from Marshwood Middle School Renee Caverly December 22, 2022 Students at Marshwood Middle School are busy building robots in 8th-grade Robotics Class. Using EV3 Lego Mindstorm kits students build and program robots to do moves and turns. Students build models with gears and conduct experiments testing force and motion like real engineers.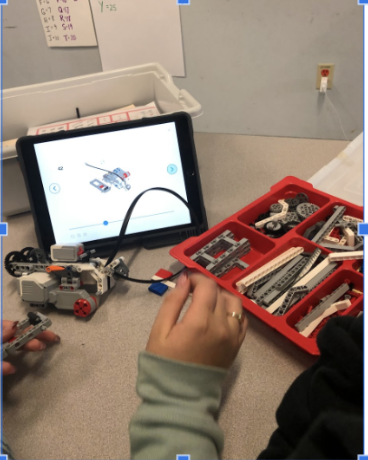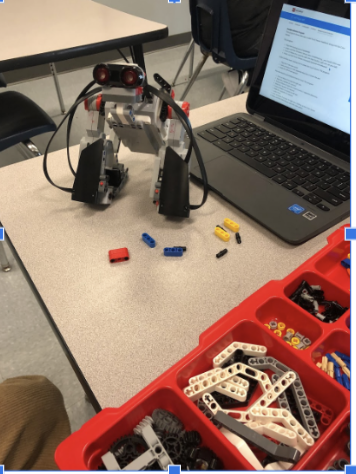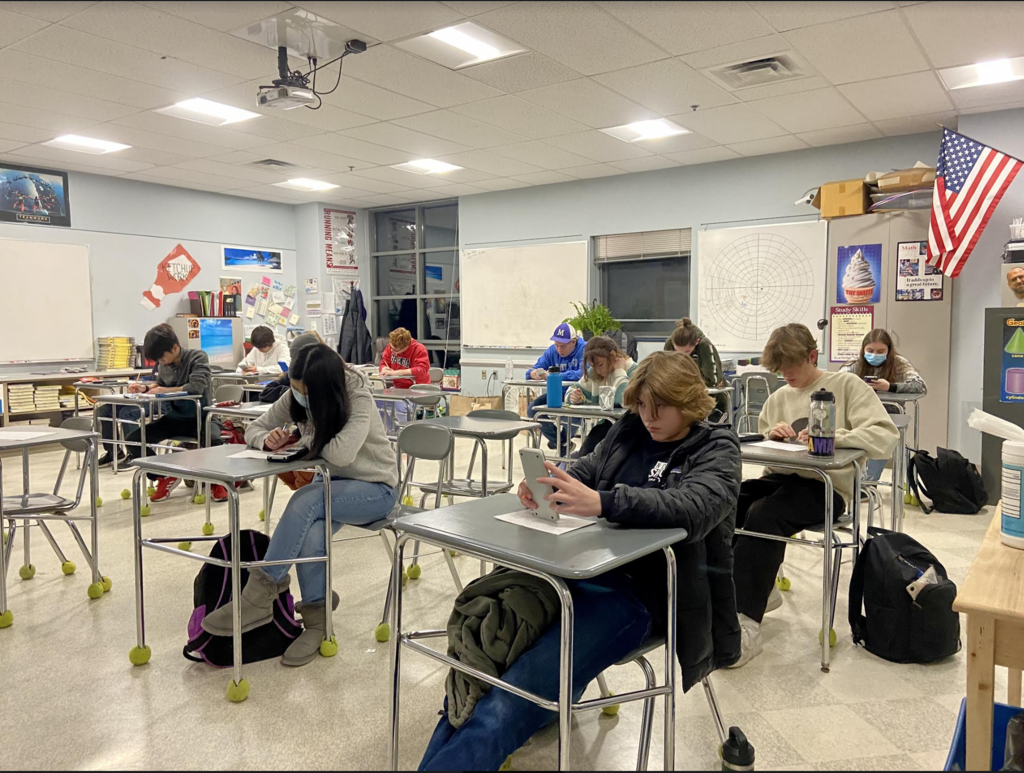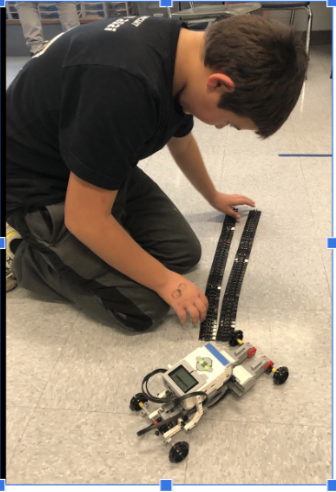 8th grade Spanish One students have been hard at work on a project! They were asked to explore their identity and create three products to explain different aspects of who they are. The three products, all in Spanish, were a mind map, a self-portrait, and an essay. Assessment: This project will count as a Presentational Communication grade worth 100 points (mind map = 20 points, selp-portrait = 40 points, essay = 40 points) The students used their self-protraits to help guide them as they had a conversation in Spanish with Señora Nelson or with a classmate. The work students produced is impressive! As students completed the assignments they were displayed in the hallway here at MMS!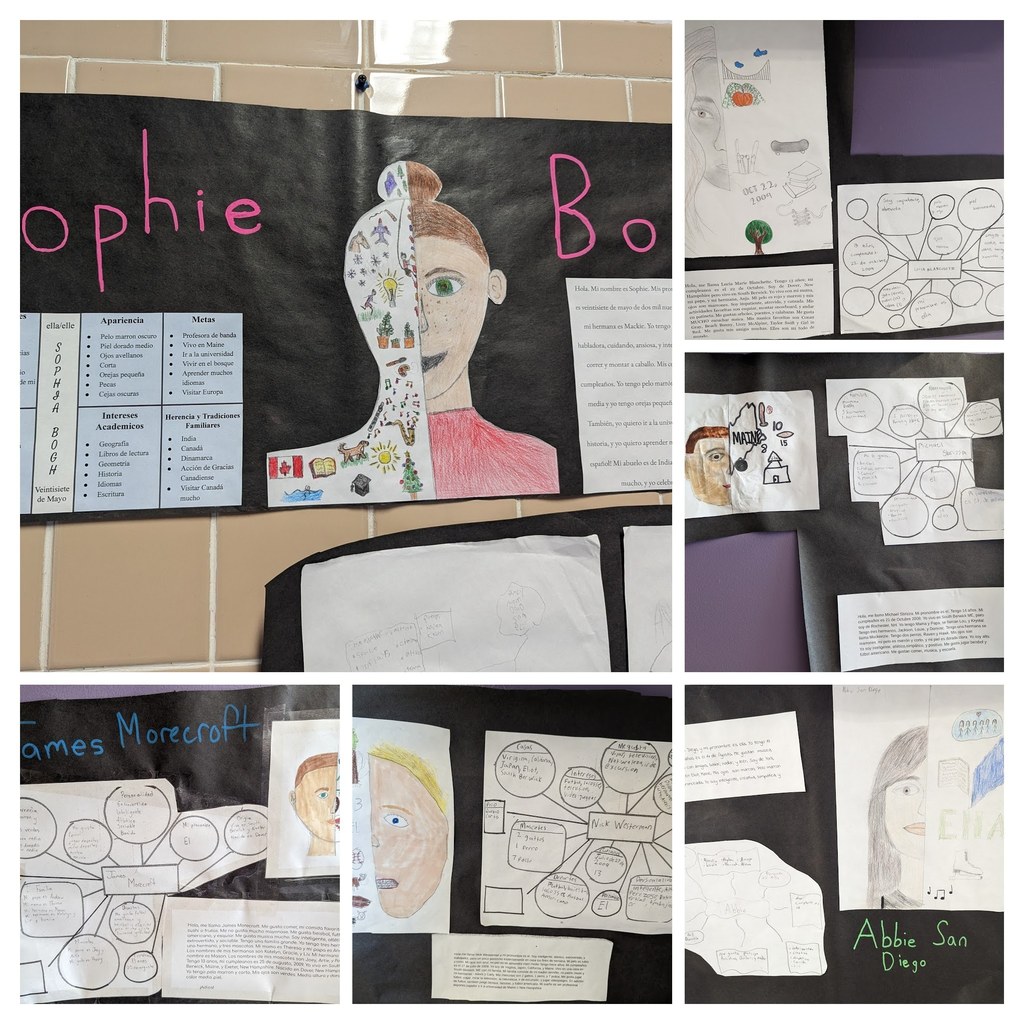 Congratulations to this year's Patriot's Pen Contest Winners! Christopher Neathawk, an eighth-grader, placed second while Nora Widerstrom, a seventh-grader, placed third. They will be the featured guests at a VFW dinner in February. Thank you to all the students who participated in the contest this year. Your efforts and enthusiastic participation is greatly appreciated, especially by our veterans.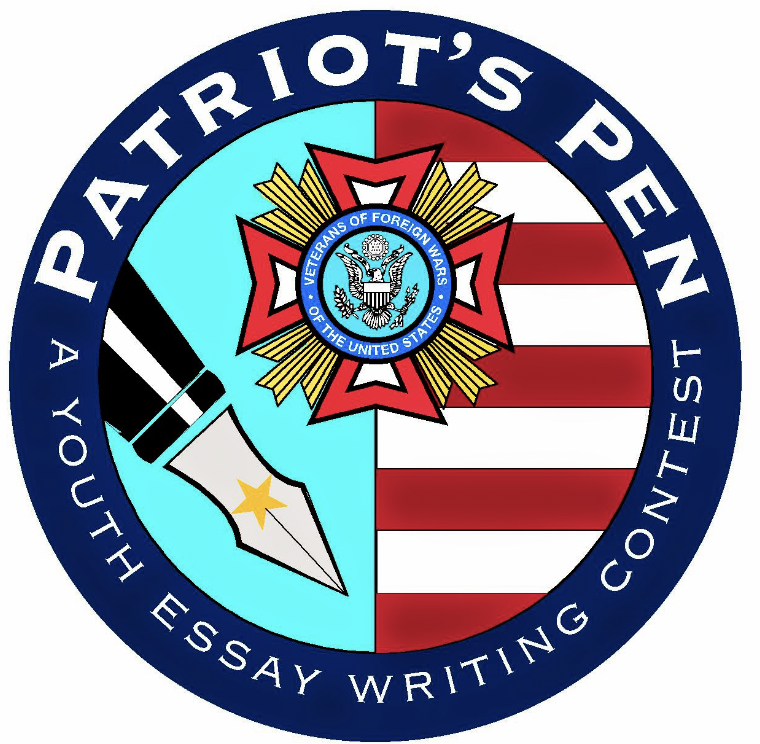 Congratulations to the MMS Choruses on their successful concert last night! The choral students all performed a wonderful concert! Our next performance will be our school-day concert next Wednesday morning, December 21. It is not too late to see the concert. Check out the choral talent using this link
https://www.youtube.com/watch?v=gvp6zbIUikg


Student Council is selling Winter Grams! Winter Grams are for sale during lunch each day. Students are able to write a special message and the recipient will also get a peppermint treat. Each Winter Gram costs 50 cents and will be delivered to on Thursday, December 22nd.